Clarins Body Lift Cellulite Control Review
Advertising Disclosure

?
Product Description
Clarins Body Lift Cellulite Control lifts and smooths skin that is affected by cellulite in order to reshape problem areas. It is manufactured by Clarins, a Paris beauty company that specializes in skin care and beauty products. The cream is available worldwide, across the country, at select beauty stores, and online. The product is sold in bottles of 6.9 fluid ounces at an average price of $70 per bottle.
Ingredients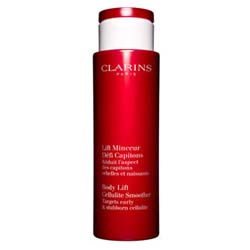 Water Mint: From southern Europe, water mint has been used in folk system for aromatic and invigorating scent. It helps the skin feel cool.
Green Coffee: Coffee that is grilled lightly in order to preserve its caffeine content and healing qualities. It contains higher levels of chlorogenic acid. It is taken for Alzheimer's disease, diabetes, and other bodily ailments.
Baccharis: Anti-inflammatory and detoxifier. Hailing from the Amazon, this plant has been used to decrease the production of enzymes that may cause fatty tissue to develop in the body.
Escin (Horse Chestnut): Can increase circulation, support vein health, and fight water retention that causes a bloated appearance. It can also improve the health of blood vessels and is also included in anti-aging products targeting the eyes.
Ascorbic Acid: Vitamin C. An antioxidant that boost the skin's healing response, improves the look of wrinkles on skin, boosts the production of collagen to promote a firmer appearance, and even heal skin at the cellular level.
Quince Leaf Extract: Can help decrease the appearance of swelling.
Directions
Directions for use are not included on the Clarins' website.
Advantages
Many of the ingredients used in the product's formula have been known to help decrease swelling on the skin.
Some of the ingredients in Clarins Body Lift Cellulite Control are also used in competing cellulite products due to their effectiveness and moisturizing properties.
Clarins products are available online, worldwide, and in select beauty stores across the country.
Disadvantages
The descriptions of key ingredients in the product's website don't state how they decrease the appearance of cellulite or provide links to studies that could corroborate claims made by the manufacturer.
Most ingredients used in the cream are found in competing cellulite creams that have yielded uneven results.
Clarins' products purchased from the manufacturer's website can only be returned if unopened and unused. Gifts that may have been included with purchase must also be returned.
Conclusion
Clarins Body Lift Cellulite Control can help soothe skin affected by cellulite. The escin included in its formula can help restore the health of blood vessels and even decrease puffiness that causes skin to sag. This also includes caffeine with chlorogenic acid that may cause allergic reactions. Customers can purchase the cream at various locations. However, the purchases from Clarins' official website can only be returned if they are unopened. This policy could cause potential customers to reconsider buying this cream because comparable brands often have more generous policies.
Cellulite refers to fat deposits under the surface of the skin giving it a dimpled, irregular appearance. The vast majority of women have cellulite, some estimates are as high as 90 percent. Cellulite is routinely found in the thighs, hips, buttocks, and stomach. Unfortunately, maintaining an optimal body weight, eating healthy, staying active, and even regular exercise may not be enough to combat cellulite. 
Below you'll find some of the most effective cellulite cream formulations on the market today, in our opinion.
Our Top Cellulite Creams Product
**This is a subjective assessment based on the strength of the available information and our estimation of efficacy.
*Results may vary. The information contained in this website is provided for general informational purposes only. No medical claims are implied in this content, and the information herein is not intended be used for self diagnosis or self trealment of any condition.
Disclosure of Material Connection: Some of the links in the post above are "associate sales links." This means if you click on the link and purchase an item, we will receive a commission Regardless, we only recommend products or services which we use personally and/or believe will add value to our readers. We are disclosing this in accordance with the Federal Trade Commission's 16 CFR, Part 255: "Guides Concerning the Use of Endorsements and Testimonials."