ClarityRx Review: Does It Work And Give You The Best Results?
By
Advertising Disclosure

?
ClarityRx Description
ClarityRx Rise and Shine Lifting Collagen Mask, US $27.50 for 2 oz., is a skin moisture and firming mask that helps you break free from multiple signs of skin aging. This product functions in the following ways to help bring back your younger skin:
Feed your skin with nutrients and vitamins necessary to pull back your skin from worsening aging skin conditions and restore its overall health
Calm and soothe irritated skin to help restore your skin health and allow your healthier complexion to shine through
Draw out and absorb excess oil from your pores to help purify your skin and give you a mattefied overall complexion
ClarityRx differentiates itself from other skin care brands by providing the best mix of plant and food ingredients to formulate products that heal and beautify your skin without having to sacrifice the health of your skin.
ClarityRx Ingredients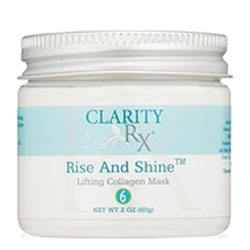 Mediterranean Mud, Dead Sea Mud, Fullers Earth, Kaolin, Bentonite: Enhance your skin complexion as ideal moisture levels are restored which helps your skin regain lost density and elasticity
Aloe Vera: Promotes a better moisturized skin surface, as it calms skin inflammation that cause your skin to feel and look irritated and swollen, as it heals damages in the skin matrix to correct and prevent signs of skin aging from manifesting
Rosemary Leaves Extract: Free radical neutralizer that prevent cellular level reactions that can lead to cellular damage and death, it also helps purify your skin to rid it of infection-causing bacteria
Directions
ClarityRx is a deep moisturizing treat recommended for twice weekly use only. After cleansing your face and neck, apply as a mask, leave on for 15 minutes then, rinse with lukewarm water and lather on moisturizer to bring back your skin's moisture.
ClarityRx Advantages
This product has a pH of 5.5 which makes it very gentle on your skin and will not change its acidity or alkalinity in any way that may support bacteria growth or cause unnecessary skin greasing or drying.
This product is free from parabens, chemicals that can adversely impact your otherwise normal endocrine functions.
A ClarityRx review attests to this product's calming effect on irritated skin, and leaving it as well with a supple and smooth after-effect feel.
ClarityRx Disadvantages
This product contains fragrance ingredients that can potentially irritate your skin and possibly cause permanent damage, most especially when you have sensitive skin.
The manufacturer has not made available evidence to provide proof of product potency.
A ClarityRx review may not be the best source of information about this product given the limited available user feedback about this product.
Final Verdict
ClarityRx offers a weekly intense treatment formula that your skin needs to lift it from a fatigued state and keep bouncing it back to health every now and then. However, on closer examination, this product may not directly firm up your skin but, with a cleared up surface and purified pores, it will cause your moisturizing products to pack a punch that significantly hydrates your skin.
As we age the composition, texture and appearance of our skin changes. Signs of skin aging include wrinkles, fine lines, loss of moisture, uneven tone, and dull, tired-looking skin. There are countless anti-wrinkle creams on the market promising to make skin look and feel younger. Many anti-wrinkle creams promise everything short of a facelift or to provide the much sought after "fountain of youth". In reality most are just moisturizers marketed as anti-aging products.
Below you'll find some of the most effective wrinkle serum/cream formulations on the market today, in our opinion.
Our Top Wrinkle Creams
Dermatologist Recommendations for Maintaining Younger, Healthier, Vibrant Looking Skin:
Be certain to consistently apply the product(s) you choose in accordance with its directions for use;
Pay special attention to your neck and hands while applying the product(s) you choose, as these areas reflect your age;
Always use sunscreen with a Sun Protection Factor (SPF) of at least 15;
Drink at least eight glasses of water a day to stay well hydrated;
Avoid excessive intake of caffeinated and alcoholic beverages, as they may contribute to dehydration and exacerbate the appearance of fine lines and wrinkles; and
Be sure to get adequate rest every day.
**This is a subjective assessment based on the strength of the available information and our estimation of efficacy.
*Results may vary. The information contained in this website is provided for general informational purposes only. No medical claims are implied in this content, and the information herein is not intended be used for self diagnosis or self trealment of any condition.
Disclosure of Material Connection: Some of the links in the post above are "associate sales links." This means if you click on the link and purchase an item, we will receive a commission Regardless, we only recommend products or services which we use personally and/or believe will add value to our readers. We are disclosing this in accordance with the Federal Trade Commission's 16 CFR, Part 255: "Guides Concerning the Use of Endorsements and Testimonials."