Cle De Peau Silky Cream Foundation Review: Would You Recommend It?
By
Cle De Peau Silky Cream Foundation
Cle de peau silky cream foundation gives a smooth touch to your skin. Does it really keep your skin moist all the day? To know more read our detailed review.
Advertising Disclosure

?
Product Description
Cle De Peau Silky Cream Foundation is meant to provide a silky smooth finish, retain hydration, and protect skin from sun damage with SPF 23. The company claims it will bring out your skin's natural radiance throughout the day. It comes in 8 shades.
Cle De Peau Beaute is a luxury skincare and makeup manufacturer. The French name means "the key to the skin," which is what the company seeks to unlock to allow women to display radiance from within.
Cle De Peau Silky Cream Foundation is very expensive at $120 on the manufacturer's site. It is also sold at retailers like Nordstrom, and the price is usually about the same everywhere. The company provides a 30-day money back guarantee.
Cle De Peau Silky Cream Foundation Ingredients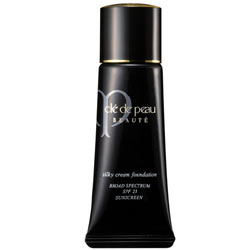 Octinoxate 1.9%: Sunscreen
Titanium Dioxide 4.1%: Sunscreen
Dimethicone: Silicone
Glycerin: Moisturizer
Diphenylsiloxy Phenyl Trimethicone: Silicone
Butylene Glycol: Conditioner
Water
Directions
Using a foundation brush, apply 5 dots the size of pearls onto the cheeks, nose, chin, and forehead. Blend from the center of the face outward.
Advantages
Good coverage with silky finish
Protects skin from harmful UV rays
Locks in moisture
Makes skin radiant
Disadvantages
No documentation backing the company's claims of the product's effectiveness is readily supplied
The darkest available shade is medium beige, so it is not suitable for all skin colors
Conclusion
Cle De Peau Silky Cream Foundation has an official website that is pretty informative. It describes what the product is meant to do, provides the ingredient list, and has a review section where the product has received a lot of positive feedback. It also has moisturizing properties. However, the shade varieties are limited which can support all skin complexion. There is no supporting documents to support product benefits given the expensive price of the cream. There are many cream foundations available on the market, so please consider all options before making a purchase.
Facial moisturizing products are in no short supply today, and this large selection might make the process of choosing the best moisturizer for your personal needs to seem a bit overwhelming. Fortunately, we've taken the time to research each of the top facial moisturizers on how they rate in several different key categories. More specifically, we believe that every quality moisturizer should provide the basic benefit of improving overall facial skin appearance, including both skin tone and skin texture. Additionally, a quality moisturizer should contain compounds that are capable of binding to collagen fibres in order to provide the most long term results. Finally, facial moisturizers should ideally be able to deeply cleanse skin at the same time that they moisturize it. Below is a summary of our findings regarding the top facial moisturizers and these key considerations.
Below you'll find some of the most effective Moisturizers formulations on the market in our opinion:
Our Top Moisturizers Products