7 Most Trending Color Combination for Clothes that Are Sure to Impress
Trending fashion styles and outfits are no longer determined by what a certain famous personality or celebrity wore last week to the gala or yesterday to the studio. Trends are now being made by how well you have paired your colors and how impressive the combinations selected are. People have decided to take a step from monochromatic clothes that are characterized by our traditions and moved on to bolder, beautiful or subtle color combinations. However, there is only one challenge in doing this namely "what colors do you combine?" even though color combination is amazing, you have to ensure that they rhyme. To aid you out, here are some of the best color combinations that I believe were designed to impress.
1. Navyand Lilac
Let the lilac coat wrap you all around. Paired with the navy top with metallic decorations on it and not forgetting that navy hat, you are good to go for the day. The day just keeps getting better with the right color combination of navy and lilac.
This is a crazy and one of the most amazing color combination for clothes to be worn at any time of the day, week or month. You are sure that with such fashionable color trends and color combination, you will remain in fashion longer and make news within a short period of time.
Related: Dressing Up to Fit Your Body Type: Look Good in All the Clothes You Own
2. Coral and Mint
Looking for a playful and chic way to start the summer, try out the coral and mint color combinations. Asking if the two are complementary colors or if they are the right color combinations is just a simple excuse not to try them out. Apart from this, they are clothing color combinations that brighten your day and complement your skin tone. In addition, they illuminate and give you the confidence needed to face the next day.
It is a definitely a statement-making dress paired with coral accessories from the necklace to the purse. Oh! Have you seen the coral colored shoes? They blend in with the mint in the dress making summer another bright and glorious day.
3. Yellow and Blue
Asking what colors go together today is laughable. This is mainly because the answer to that question would be all of them. Let's consider a yellow and blue combination, many may view it as color blocking, but the yellow is bright like the morning sun and the blue is similar to the skies touching the sun. How high can you not hope to go with this specific combination if not just to impress yourself and the others with this pairing of the right colors?
The combination is simply elegant and glamorous and suitable for all. The yellow and blue combination is highly inspirational and the beauty of it is mesmerizing. This is another one of the fashionable color trends that people are taking advantage of and having a superb time and experience while at it.
4. Royal and Rust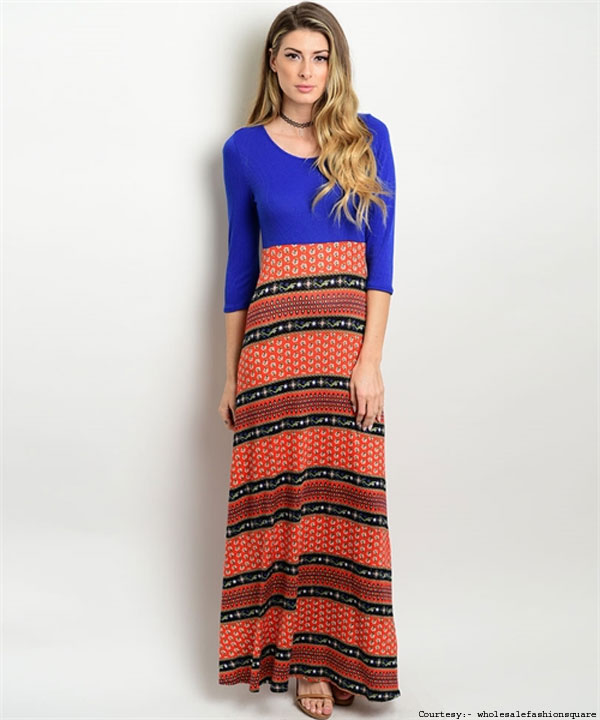 Pairing right color combinations is not as easy as the pictures and the models portray it to be. Designers are faced with challenges of ensuring that the combinations are as desired and the color combinations they select for their clothes are perfect and no one will be like "what the hell is that?!
The color combinations portray elegance and style at a far. From marvelous rust skirt to blue pants with a lens rust jacket to complement the final look and appearance. This says that you can never go wrong with pairing the right color combination for your clothes.
5. Cornflower and Tan
This is a refreshing pairing of the right color combinations for your clothes. It brings out the earth and the nature showing off the country and what it has to offer. It is a one of the best fashionable color trends that includes proper pairing of the right colors in your clothing options.
With this color combination, you will never again ask what colors go together. You will ask if these colors bring out the beauty in you and in your surroundings. The color combination i.e. cornflower and tan are subtle colors but make a statement when worn in the right way.
5. Pink and White
pink and white is a color combination that works with little or no efforts at all. It is suitable in that it is one of the trending and fashionable color combinations of all time. In addition, it can be worn by anyone making it flawless and a right color combination that should not miss in your closet. Pairing the right color combinations if compared to white and pink can be easy fast and amazing at the final moment.
This polka dot dress is beautiful and a chic combination at that. Enjoying the day at the beach, going for a party or simply going out on a date has been made simple with the polka dot pink dress. Paired with the white high waist belt, you outfit is now complete. All you have to do is find the perfect accessories and the right pair of shoes to complete the look.
6. Yellow and Brown
Clothing color combinations are designed to ensure your skin tone is complemented and that your beauty is brought forth. If you believe or think that you look pale this morning, you should wear warm color combinations such as yellow and brown. You will not regret the fashionable color trends that you have been looking at and how well the yellow and brown combination will be.
This specific combination can be described as simply stunning. The yellow dress with a brown waistline and brown accessories is ….simply gorgeous. Even though beauty is relative, the two colors are definitely complementary colors and some of the best color combinations to have ever been invented. With such color combinations for clothes, you won't regret a day or time in your whole experience.
Like this post? There's more. Get tons of beauty tips, tutorials, and news on the thebeautyinsiders Facebook & Twitter page. Like us on Facebook – we'll see you there!