Complete LaFemme Review
By
Advertising Disclosure

?
Complete LaFemme Overview
Complete LaFemme is a product designed to enhance the female bust by increasing growth and firming sagging skin. The Complete LaFemme website showcases the product with a detailed description of how it works, and does provide statistical evidence of its performance. In customer trials, 82% experienced a 1-2 cup size increase and 95% had less severe PMS symptoms, a result of the hormonal balancing effect of the formula.
While all contact is provided for the Complete LaFemme manufacturer, details regarding their refund policy are limited and the consumer is required to call the company directly for information. When purchased from the website, Complete LaFemme costs $39.95 for a one month supply and all ordering transactions are secure.
Complete LaFemme – Product Description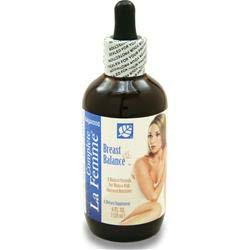 Complete LaFemme consists of 11 herbs that are blended into a proprietary formula. Together they mimic the effects of estrogen and progesterone, 2 hormones that are present during puberty and pregnancy. The complete product label is published and the key ingredients include Saw Palmetto, Dong Quai, Damian, Fennel, Blessed Thistle, Violet, Fenugreek, Wild Mexican Yam and Althea. Complete LaFemme comes in two formulas, a liquid and capsules, and it is recommended that after the initial treatment, approximately 3 months, a maintenance dose is taken on a regular basis.
It is said that all the ingredients are safe for use and no harmful side effects have been reported by users. I
Complete LaFemme Advantages
The formula is all natural.
No harmful side effects have been reported.
All ingredients are listed.
Customer trials have been conducted.
Complete LaFemme is available in liquid and capsules.
The product is affordable.
Complete LaFemme Drawbacks
Dong Quai may not be suitable for all users.
8 capsules are required daily.
A maintenance dose is required.
Refund policy details are not shown.
Complete LaFemme – The Bottom Line
In addition to containing most of the hormone-balancing ingredients often used in breast enhancement products, Complete LaFemme is slightly less expensive than many similar brands. If a consumer was interested in purchasing this particular brand, it is advised that they check the details of the refund terms first by contacting the manufacturer.
Currently there are many products that claim to be capable of enhancing breasts. However, each of these products should be evaluated in light of their ingredients, and the following chart rates several of the top breast enhancing supplements/creams. Specifically speaking, the best quality breast enhancers should formulated from compounds that have a proven potential to increase bust size, and this increase in size should be observable for a significant period of time; temporary results are not ideal. Of course, a quality breast enhancer must also contain ingredients that are tested both for their safety and quality.
Below you'll find some of the most effective Breast Enhancement formulations on the market in our opinion:
Our Top Breast Enhancement Creams and Pills