Cosima Revival: Does Cosima Revival Work?
By
Advertising Disclosure

?
Cosima Revival Review: How Effective Is This Product?
What You Should Know About This Product
While the body requires a specific set of essential amino acids to support the entire body, Cosima Revival is one such product to contain the essential amino acid L-Arginine. Unfortunately, this amino acid is not supplied by the body and must be obtained through the diet. L-Arginine can deplete during stressful periods, but its benefits include stimulating growth hormones, improving the production of collagen, and increasing blood circulation. These are especially useful for the health of skin, since the formation of collagen is crucial to a youthful complexion. On the official website there is a before and after picture detailing its smoothing effect on the skin's surface, but there is no clinical research supplied.
Cosima Revival – Product Description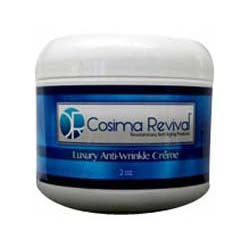 The ingredients in Cosima Revival include Vitamin B6, L-Glutamine, L-Arginine, Vitamin B5, and L-Ornithine. Stimulation of collagen is through the essential amino acid L-Arginine, but this must be obtained through the diet. L-Ornithine also encourages the release of growth hormones, whilst Vitamin B5 is a potent skin healer, Vitamin B6 supports hair and skin health and prevents skin inflammation, and L-Glutamine encourages the release of collagen. Apply Cosima Revival to the face after washing and drying, and use it daily. A 2oz jar costs $89.99 through cosimarevival.com.
Cosima Revival – Advantage
This product treats wrinkles, but it also works effectively on stretch marks.
The official website for Cosima Revival shows before and after pictures.
Full ingredients are supplied.
The manufacturer offers a 100 percent satisfaction and refund guarantee.
A 14-day free trial is available, although if you opt for the free trial, you are not eligible for the money back guarantee.
Cosima Revival – Drawbacks
Cosima Revival is only available in the United States.
This product is pricy.
There is no scientific researched linked to Cosima Revival, although there is a picture displaying a visible difference to the skin's surface.
If you sign up for the free trial, you will also be billed $89.99 per month until you request cancellation.
Cosima Revival – The Bottom Line
The official website for Cosima Revival is professional and user friendly, but it would be useful to list more about how the ingredients aid the skin, and why it works better than one of the many thousands of similar products available on the market. There is a 14-day free trial offer, but this automatically signs you up for the regular shipment and makes you ineligible for the money back guarantee.
As we age the composition, texture and appearance of our skin changes. Signs of skin aging include wrinkles, fine lines, loss of moisture, uneven tone, and dull, tired-looking skin. There are countless anti-wrinkle creams on the market promising to make skin look and feel younger. Many anti-wrinkle creams promise everything short of a facelift or to provide the much sought after "fountain of youth". In reality most are just moisturizers marketed as anti-aging products.
Below you'll find some of the most effective wrinkle serum/cream formulations on the market today, in our opinion.
Our Top Wrinkle Creams
Dermatologist Recommendations for Maintaining Younger, Healthier, Vibrant Looking Skin:
Be certain to consistently apply the product(s) you choose in accordance with its directions for use;
Pay special attention to your neck and hands while applying the product(s) you choose, as these areas reflect your age;
Always use sunscreen with a Sun Protection Factor (SPF) of at least 15;
Drink at least eight glasses of water a day to stay well hydrated;
Avoid excessive intake of caffeinated and alcoholic beverages, as they may contribute to dehydration and exacerbate the appearance of fine lines and wrinkles; and
Be sure to get adequate rest every day.
**This is a subjective assessment based on the strength of the available information and our estimation of efficacy.
*Results may vary. The information contained in this website is provided for general informational purposes only. No medical claims are implied in this content, and the information herein is not intended be used for self diagnosis or self trealment of any condition.
Disclosure of Material Connection: Some of the links in the post above are "associate sales links." This means if you click on the link and purchase an item, we will receive a commission Regardless, we only recommend products or services which we use personally and/or believe will add value to our readers. We are disclosing this in accordance with the Federal Trade Commission's 16 CFR, Part 255: "Guides Concerning the Use of Endorsements and Testimonials."