Curly Hairstyles For Wedding: Romance and Fashion Together
Your dream wedding will happen in a matter of days. Yet, being the bride, you have enough things to worry about. The ceremony, the reception, the ever special wedding gown, and of course, your wedding look – which includes the hair and make-up. There are plenty of hair styles to choose from. But, if you desire for a more sophisticated look, go for curly hairstyles for wedding.
Choose the Perfect Curl
With all the different curling techniques that can be done for your hair, you must bear in mind that choosing the perfect one is essential. The ideal hairstyle for you must suit your wedding dress as well as your face shape.
Types of Curly Hairstyles for Wedding
Curly hairstyles come in different looks – up style, down styles, half up and half down. Up style curly hair characterizes elegance. Several ways can be done to achieve this look. Teased, rolled up and pinned to a crown to mould in its gracious form. This type of style is best with round-shaped faces.
Down style curly hair, on the other hand, portrays romance and sophistication. Dazzle your man with those gorgeous flowing curly hair.
Let your groom fall for you more with the astonishing half-up and half-down hairstyle. It is the combination of the up style and down style curly locks
Even the bridesmaids will look amazing with this type of curly hairstyles for wedding. And not only that, your mom and all other guests will surely love these techniques.
Romantic Trimmings
Having curly hair for your wedding lessens the time for styling so you'll have more of time doing your make-up and fastening your wedding dress. It is a great help when fixing your veil for it falls into place the instant you put it on. Additionally, pins attached to keep it locked won't be sliding down. Conversely, sporting a silky, straight hair might cost you a lot of valuable time fixing, pinning and keeping both the veil and hair in place.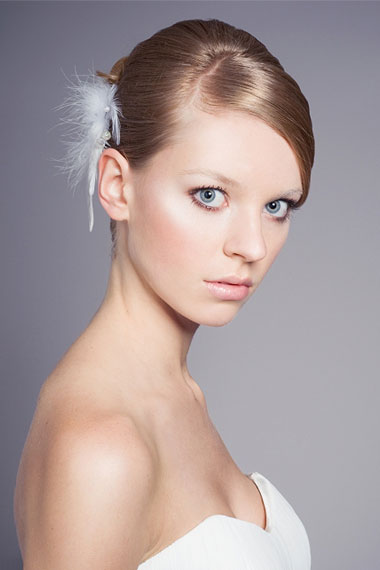 Make the Moment Last Longer
Curly hairstyles for wedding entail vital care. To make the locks last longer, certain procedures must be performed. Aside from the ever famous hairspray, you must be able to take good care of your locks as you wear them to avoid retouching. Savour the special day and enjoy the party! As the beautiful bride, let your groom admire you more. As a guest or bridesmaid, make the guys fall for your captivating beauty.