15 Cutest Things To Do With Your Boyfriend This Valentines Day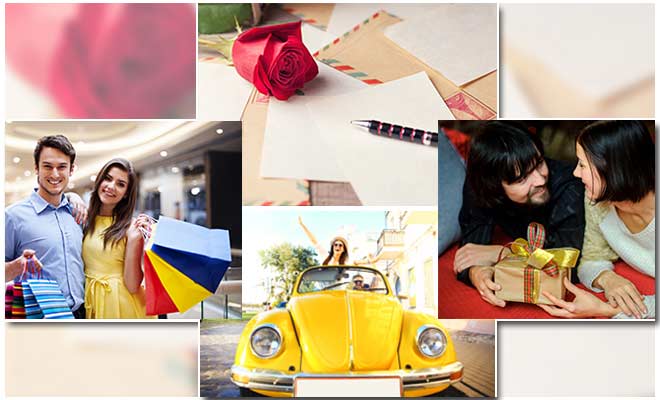 1.Take Him Down Memory Lane

2. Give Gifts That Keeps Giving

3.Walk Out For Shopping

4.Cook Him a Meal

5. Romantic Notes

6. Change Of Environment

7. See a Movie

8.Be Spontaneous

9. Do Something Together

10. Surprise Him

11. Have a Game Night

12. Plan a Trip

13. Be More Expressive

14. Dedicate a Song To Him

15. Learn To Dance Together
Valentine's is one of those extra special days in a year when people come up with all sorts of ideas – some extravagant and others just plain quirky. Here are 15 simple ideas to make your date extra special without being ordinary or too cheesy:
1.Take Him Down Memory Lane
Arrange for you to have dinner at the joint where you two first met or, pull up the first movie you went to see with him.
2. Give Gifts That Keeps Giving
Show your man that you care for his heart by buying him a subscription to a local lunch diet delivery, so he can always eat healthy even when you're not cooking.
3.Walk Out For Shopping
It doesn't always have to be secrets and surprises, you know. Stroll in the mall and ask your man what he wants for Valentine's.
4.Cook Him a Meal
Of course it does get extra special when you make an effort to learn to cook his favorite food from a local artisan restaurant.
5. Romantic Notes
Leave him post-its all over his car, office desk and apartment. Tuck your notes in places where he wouldn't expect to see it. Seal your notes with a kiss.
6. Change Of Environment
Explore a new local food cart or go camping at a local forest reserve.
7. See a Movie
Turn your apartment into a cinema and tune in to iflix. It's just cosier at home where you can wrap your hands all over each other and smooch.
RELATED – Know the Secrets of Happy Couples: 3 Things Happy Couples Do Every Day
8. Be Spontaneous
If you've been making V-Day plans year after year, you know what, this year, just don't. Offer to pick up your boyfriends and decide what to do on-the-spot.
9. Do Something Together
Cook food together or take a road trip.
10. Surprise Him
If you've been together for a while and you know he's for keeps then just pop up the, "Will you marry me?" piece – on your knees.
11. Have a Game Night
Be childish. Bag your favorite board games from when you were little or play old nintendo games.
RELATED – Outfit Ideas For Valentine's Day
12. Plan a Trip
Go some place you've both have never been to. Time to make lasting memories together.
13. Be More Expressive
Show and tell him you love him. Drop those gadgets and focus on your man, exclusively.
14. Dedicate a Song To Him
It doesn't matter if you sing well or not. Sing a line or two of his favorite song.
15. Learn To Dance Together
Just make sure he's in it first or he'll be annoyed.
Conclusion
There are unlimited ways to make this year's Valentine's Day so much unlike the forgettable years past. It takes plenty of love and imagination to take your man and yourself to a love journey – the kind that neither him nor you have experienced before. Sigh, "Uhhhh".
Like this post? There's more. Get tons of beauty tips, tutorials, and news on the thebeautyinsiders Facebook & Twitter page. Like us on Facebook – we'll see you there!