Dark Circles under My Eyes: How to Get Rid of Them?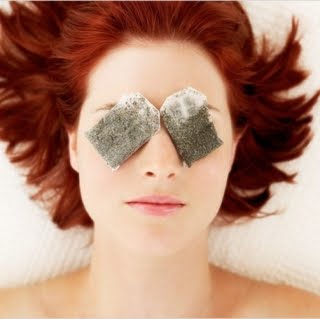 Do you look ill and depressed and even twice your age? Do people suggest that you need a long vacation? If so, then you must be suffering from dark circles under your eyes. Dark circles indeed make you look stressed and old. But wait, the dark blemishes can be removed and prevented. Here are some of the ways on how to get rid of dark circles under the eyes. By following these tips you can say goodbye to dark circles and say hello to radiant and glowing skin.
Home Remedies
Water therapy is the most observed solution. Hydrating is necessary for cleansing our bodies and letting our systems function efficiently. So be sure to drink at least 8 glasses of water a day.
Smearing sunscreen with a minimum SPF 30 prevents the skin from weakening. Too much sun exposure can damage our cells thus making our skin look dull, dry and unhealthy. So, flaunt that youthful glow but make sure to protect it from the harmful sun.
Applying cool teabags over closed eyes alleviates its bad condition. The caffeine in tea bags acts as remedy by diminishing puffiness. It helps reduce water in the tissues around the eyes. Putting on cool cucumber slices on closed eyes for 15 minutes is also an advantage. Moreover, by applying these things can also be a form of relaxation.
Having plenty of rest and sleep helps our bodies recover from the exhaustion and fatigue. Having at least 8 hours of sleep repairs dented cells, hence, diminishing the obvious signs of stress i.e. under eye baggage.
Eating fruits rich in vitamin C helps improve blood vessel walls. Additionally, vitamin C serves as a shield that would protect our bodies from harmful diseases.
Grape seed extract in dietary supplements and pycogenol contain antioxidants that may help strengthen blood vessels. Cranberries, blueberries, bilberries, green and black teas, black currant, onions, legumes and parsley also contain these antioxidant pigments.
In Chinese Medicine, dark circles under the eyes are caused by an imbalance in kidney energy. Therefore, eating kidney-balancing foods may be of great help.
Using eye creams containing vitamin K and retinol reduces puffiness and discoloration under the eyes.
Besides these home methods, other advanced techniques like laser treatments are available for consumers. Above all, a healthy living and positive outlook in life do the trick. As most of the people say, "Laughter is the best medicine". You bet it's true!
Purchasing an eye cream is a fairly committed decision, since each container of these products tends to last for a fairly substantial period of time. Therefore, eye creams must be evaluated on their ability to deliver a number of desired results. For example, in addition to being affordable, an ideal eye cream must be able to reduce the depth, length, and surface area of wrinkles, crow's feet, and other fine lines. At the same time, an eye cream should also offer relief from puffiness and dark under-eye circles, helping individuals appear refreshed and well rested on a daily basis. Finally, an eye cream should also contain quality ingredients that provide much needed nourishment in the form of hydration to skin cells; such hydration can help delay the onset of wrinkles in the first place. Below, we've evaluated the ability of several of the top eye cream products to deliver these important benefits.
Top Eye Creams
Also Remember These Dermatologist Recommended Important Tips:
Age has nothing to do with the lines that appear on the corners of your eyes... it's a combination of heredity and careless abuse of the area.
Skin is skin... it all needs to be cared for in one way or another. For my younger readers, this means not pulling on the skin when removing eye makeup.
The eye area is prone to fine lines and wrinkles, so it is really important not over-work the area, squint, and stay away from smokey rooms. Your eyes won't like that either.
One of the best ways to protect this area of your face is to put on a pair of sunglasses every single time you go outside spring, summer, fall and winter.
There are very few oil glands in the eye area, so it can dry out very quickly, especially if you spend a great deal of time out of doors.
When you chose an eye cream, be sure to choose one that is especially formulated for this delicate skin. Don't use a day cream that could be full of ingredients that will irritate this area. Too rich a cream can cause as many problems as ignoring the area.