DDF Mattifying Oil Control UV Moisturizer SPF 15 Reviews
Advertising Disclosure

?
DDF Mattifying Oil Control UV Moisturizer SPF 15 Description
DDF Mattifying Oil Control UV Moisturizer SPF 15, US $39 for 1.7 oz., works to control oil and regulate blemishes to leave your skin with nothing less than a flawless surface and smooth overall complexion.
More specifically, this product has been formulated to deliver the following benefits for your skin:
Provide oil controlling mechanism that strikes the perfect balance of oil that doesn't leave your skin dry nor greasy
Protect your skin from the sun's harmful UVA and UVB rays which a complex combination of four chemical sunscreen actives
Promote younger-looking blemish-free skin with regular and long-term product use
Short for Doctor's Dermatologic Formula, DDF was founded in 1991 by a New York dermatologist who, through this brand, promoted more skin care focus on antioxidants, oil control, and strengthening the skin's protective barrier.
DDF Mattifying Oil Control UV Moisturizer SPF 15 Ingredients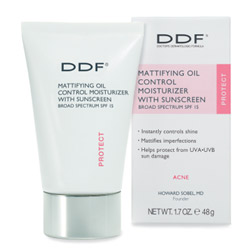 Octisalate (5.0%), Avobenzone (3.0%), Homosalate (3.0%), Octocrylene (2.6%): Chemical sunscreen actives
Witch Hazel Extract: Regulates oil production
Aloe Vera: As powerful skin healing properties that promotes repairs to rebuild and maintain a stronger skin barrier that can better withstand damages
Marigold and Ginger Root Extracts: Have natural anti-inflammatory properties that help relieve skin of irritations, blotchiness and redness that get in the way of your, otherwise, flawless complexion
Retinyl Palmitate: A derivative of Vitamin A that renders this product its anti-aging capabilities, preventing and reversing wrinkles and other multiple signs of skin aging
Directions
Apply a generous amount of DDF Mattifying Oil Control UV Moisturizer SPF 15 on all exposed areas of your skin at least 15 minutes before stepping out into the open. Use this product under your makeup.
DDF Mattifying Oil Control UV Moisturizer SPF 15 Advantages
This product provides multiple functions and delivers multiple benefits that includes sunscreen, moisturizer, anti-inflammatory, and skin lightening properties
This sunscreen is specifically formulated for people with oily and combination skin types.
A DDF Mattifying SPF15 review by a user who claims to have an oily skin type cited that this sunscreen didn't leave the user's skin greasy like most other sunscreens normally would.
DDF Mattifying Oil Control UV Moisturizer SPF 15 Disadvantages
This product is formulated with toxic chemical sunscreen actives that have been proven many times to have endocrine-disrupting effects that can cause irregularities in several vital body functions.
This product contains retinyl palmitate which will breakdown easily as soon as exposed to heat and UV and therefore renders it useless in this formula.
The formula contains several potentially irritating and skin damaging ingredients, such as alcohol, witch hazel, and retinyl palmitate.
A DDF Mattifying SPF15 review has cited what many others have pointed out about this product, that is, it can be severely irritating to the skin.
Conclusion
DDF Mattifying Oil Control UV Moisturizer SPF 15 is for when your skin needs a sheer and lightweight formula that won't leave your skin greasy. There are several facts about this formula, however, most especially that it has drying alcohols and misplaced anti-aging Vitamin A, which deserve a red flag.
Facial moisturizing products are in no short supply today, and this large selection might make the process of choosing the best moisturizer for your personal needs to seem a bit overwhelming. Fortunately, we've taken the time to research each of the top facial moisturizers on how they rate in several different key categories. More specifically, we believe that every quality moisturizer should provide the basic benefit of improving overall facial skin appearance, including both skin tone and skin texture. Additionally, a quality moisturizer should contain compounds that are capable of binding to collagen fibres in order to provide the most long term results. Finally, facial moisturizers should ideally be able to deeply cleanse skin at the same time that they moisturize it. Below is a summary of our findings regarding the top facial moisturizers and these key considerations.
Below you'll find some of the most effective Moisturizers formulations on the market in our opinion:
Our Top Moisturizers Products
**This is a subjective assessment based on the strength of the available information and our estimation of efficacy.
*Results may vary. The information contained in this website is provided for general informational purposes only. No medical claims are implied in this content, and the information herein is not intended be used for self diagnosis or self trealment of any condition.
Disclosure of Material Connection: Some of the links in the post above are "associate sales links." This means if you click on the link and purchase an item, we will receive a commission Regardless, we only recommend products or services which we use personally and/or believe will add value to our readers. We are disclosing this in accordance with the Federal Trade Commission's 16 CFR, Part 255: "Guides Concerning the Use of Endorsements and Testimonials."