Dead Sea Premier Eye Serum Reviews- Should You Trust This Product?
Advertising Disclosure

?
Dead Sea Premier Eye Serum Overview:
Dead Sea Premier Eye Serum, US $249.99 for a 1.2 oz. pump bottle, is a Eye cream treatment solution that commits to address all signs of skin damage and aging that show up around the eye area.
About Dead Sea Premier Eye Serum — Does It Really Work?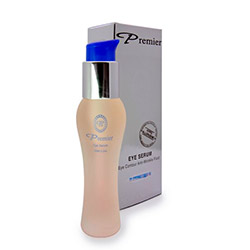 This product is brought to you by Premier. Premier's mission is "to provide effective skincare by combining the wisdom of nature, the secrets of the Dead Sea, and the advancement of science". Every Premier product draws on the minerals and essential nutrients that can only be richly found in the Dead Sea.
Based on claims made by the manufacturer, this product has been formulated to deliver for you the following benefits:
Soften and smoothen your skin's surface texture.
Improve the appearance of fine lines and wrinkles.
Deliver vital nutrients that help your skin regenerate to become renewed and rejuvenated.
Fade signs of skin aging that show up around the eye area.
Re-energize and revitalize your skin with antioxidants and deep skin moisturizers.
What Are The Ingredients In Dead Sea Premier Eye Serum?
Soybean Oil: Deliver two super benefits that help restore your skin, that includes the soothing moisturizing feel of Vitamin E, and the revitalizing and protective power of antioxidants that hinder damage from progressing.
Vitamin C: A powerful antioxidant, it also has natural astringent properties that lighten dark marks and give you a brighter skin tone.
Vitamin E: Deeply moisturizing, it leaves your skin with a calming effect as it simultaneously strengthens your skin's protective barrier, effectively shielding your skin from damage and aging caused by the elements.
Musk Rose Oil: It has a re-energizing and revitalizing effect on your skin, relieving tired look while simultaneously smoothening out wrinkles and fine lines.
Directions To Use:
Dead Sea Premier Eye Serum is recommended for application over skin that has been thoroughly cleansed and cleared of dirt, grime, and product residues to enhance absorption. Take a dime-sized amount. Dot around your eye area then spread evenly with upward massaging strokes with occasional tapping to better blend in the product into your skin. As anti-wrinkle creams can be extremely photosensitizing, make sure to wear your sunscreen every morning so as not to cancel out the anti-aging benefits that you can derive from this product.
Benefits:
Dead Sea Premier Eye Serum is conveniently available for online purchase.
This product has been designed and formulated to correct multiple signs of skin aging commonly found around your eye area.
Disadvantages:
This product appears to have a limited distribution network and possibly not very easy to access and maintain as part of your routine as it is also too expensive.
Independent Dead Sea Premier Eye Serum reviews are severely limited to make a collective impression as to this product's performance based on actual experiences of users.
The full product ingredients list has yet to be disclosed by the manufacturer.
Does Dead Sea Premier Eye SerumHave Any Side Effects?
In the absence of a full list of ingredients, expect the likelihood of side effects to occur to be high when you decide to use Dead Sea Premier Eye Serum. As a precaution, perform an overnight patch test to check for any possible allergic reactions that you may have against one or more of this product's components.
Final Verdict:
Dead Sea Premier Eye Serum contains a rather basic lineup of key ingredients. Unfortunately, these cannot be sufficient to fade fine lines and wrinkles around your eye area. It's also sad that with such an expensive price tag, the manufacturer fails to detail what it is exactly that you will be getting in exchange for your hard-earned dollar.
The most common eye area issues are puffiness, dark circles, wrinkles and crow's feet, and loss of hydration. There are countless eye creams available on the market today, making it seem nearly impossible to find the "right one" that meets our specific under eye needs. It is imperative to find a product that has been formulated to address a variety of complex eye area problems.
Below you'll find some of the most effective eye cream formulations on the market today, in our opinion.
Our Top Eye Creams
Also Remember These Dermatologist Recommended Important Tips:
Age has nothing to do with the lines that appear on the corners of your eyes... it's a combination of heredity and careless abuse of the area.
Skin is skin... it all needs to be cared for in one way or another. For my younger readers, this means not pulling on the skin when removing eye makeup.
The eye area is prone to fine lines and wrinkles, so it is really important not over-work the area, squint, and stay away from smokey rooms. Your eyes won't like that either.
One of the best ways to protect this area of your face is to put on a pair of sunglasses every single time you go outside spring, summer, fall and winter.
There are very few oil glands in the eye area, so it can dry out very quickly, especially if you spend a great deal of time out of doors.
When you chose an eye cream, be sure to choose one that is especially formulated for this delicate skin. Don't use a day cream that could be full of ingredients that will irritate this area. Too rich a cream can cause as many problems as ignoring the area.
**This is a subjective assessment based on the strength of the available information and our estimation of efficacy.
*Results may vary. The information contained in this website is provided for general informational purposes only. No medical claims are implied in this content, and the information herein is not intended be used for self diagnosis or self trealment of any condition.
Disclosure of Material Connection: Some of the links in the post above are "associate sales links." This means if you click on the link and purchase an item, we will receive a commission Regardless, we only recommend products or services which we use personally and/or believe will add value to our readers. We are disclosing this in accordance with the Federal Trade Commission's 16 CFR, Part 255: "Guides Concerning the Use of Endorsements and Testimonials."