Denim Fashion: 8 Denim Pieces Fashion Girls Won't Stop Wearing In 2017
1. Ripped Jeans

2. Button-Down Denim Shirt Dress

3. Slip Dress

4. Denim Jacket

5. Off-The-Shoulder Denim Blouses Or Dresses

6. Hot Pants

7. Rompers

8. Denim Polo Shirt
Oh, denims! Fashion designers can keep cracking their heads about what to put on the runway next but denims will never be out of style. This 2017, denims will continue to be a big hit.
Below are 8 ways to wear your denim fashion this year:
1. Ripped Jeans
Who doesn't love denim pants? Cameron Diaz was once quoted as saying, "I'm like every other woman: a closet full of clothes, but nothing to wear. So I wear jeans." Only this year, we love those jeans more with a rip or plenty of it all over. What's the best way to wear it? We're talking about the most versatile piece of clothing, Honey, so wear it any way you want to.
2. Button-Down Denim Shirt Dress
They're for every casual occasion on your calendar. Go on movie dates with it, watch a basketball game in it or, simply hang out around town stylishly clad in it. If you're planning to top it with a jacket, don't make it a denim. Use leather or a cardigan instead.
Related: Denims In Trend From Head To Toe
3. Slip Dress
Otherwise known as a shift dress, you can take this one piece wonder from day into night. Make it look dressier with huge pieces of necklace accessories or big chunks of bangles. Wear with a pair of wedges if you do. If you're using it bare and stripped down, a pair of trainers will be suitable.
4. Denim Jacket
It's the perfect wear for your plain undershirt or your mini dress that's made of any material other than a denim. This year, bring out your old, oversized denims and make small repairs to give it a little rip and a statement patch. Stylishly pair it with your dresses, or ripped off skinnies.
5. Off-The-Shoulder Denim Blouses Or Dresses
Those sexy shoulders will continue to see plenty of sunlight and keep feeling the breeze. Off-the-shoulder and assymetrical pieces will continue to dominate the street styling scene — in denims.
6. Hot Pants
The perfect wear for spring and summer, we like them ripped too, like our denim jeans. Add a tear here and there with a patch, lace or fringe detail for accent. Pair with an elaborately printed top to balance the level of plainness of this pair of short shorts.
Related: 7 Things That Won't Be Trending in 2017: Get Ready To Try New Things
7. Rompers
Speaking of summer and shorts, we will also continue loving 'em denim in one piece: rompers. Again, style up your rompers with accents at the back or on the hems. Or, you can also simply pair it with a nice belt or ribbon. Wear it stylishly with your Chuck Taylor's.
8. Denim Polo Shirt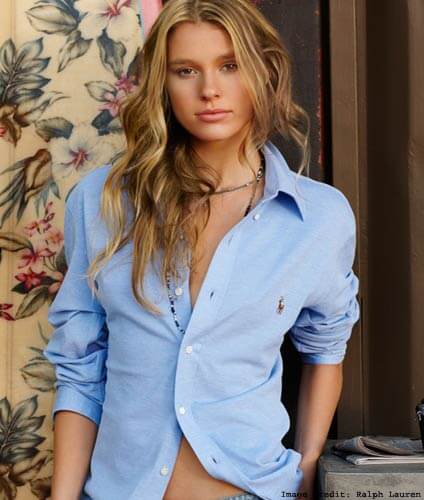 With or without collar, these pieces will continue to be trendy. This year, we'll continue to see sheerer denim materials worn loosely as tops to give an easygoing feel.
CONCLUSION
Got denims in your closet? Of course, you do! Maybe you don't even need a new piece. Maybe you need a pair of shears.
Like this post? There's more. Get tons of beauty tips, tutorials, and news on the thebeautyinsiders Facebook & Twitter page. Like us on Facebook – we'll see you there!