Dermactin–TS Stretch Mark Complex Review : Ingredients, Side Effects, Detailed Review And More.
By
Advertising Disclosure

?
What is Dermactin–TS Stretch Mark Complex?
Dermactin – TS is manufactured by Fisk Industries. This is a company that has been on the market for over 40 years already. The company is dedicated to providing women from all ages with all skin types innovative and beauty and skin care products. However, most of the formulas from this brand are unproven and there are reports that many of them are actually ineffective.
Dermactin – TS Stretch Mark Complex, is marketed as a stretch mark cream that uses both organic and nonorganic ingredients in diminishing the appearance of stretch marks as well as fighting the signs of aging like wrinkles, fine lines, and sagging skin. If you are intrigued by what this product can do, please check out this Dermactin – TS Stretch Mark Complex review.
Dermactin – TS Stretch Mark Complex – Does It Really Work?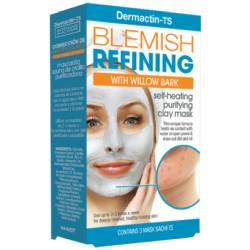 According to the company, they have formulated the cream to deliver the following benefits:
Improve the overall wellness and health of the skin.
Fade the look of stretch marks.
Target other signs of aging.
Address skin discolorations.
Fade marks that are caused by burns and rashes.
Improve the skin texture.
Boost skin firmness.
Pave the way for a smoother and youthful looking skin.
If you wish to know more, just keep on reading this review!
What Are The Ingredients In Dermactin – TS Stretch Mark Complex?
Here are some of the Dermactin – TS Stretch Mark Complex ingredients that you can find in the formulation:
Mango Seed Butter: This is said to be nourishing and has emollient properties that can moisturize the skin and heal scars.
Algae Extract: This can restore the youthful glow of the skin and revitalize dead skin cells. However, some users may be sensitive to this component, which can cause irritation.
Glyceryl Stearate: Ester of stearic acid and glycerin. Forms product emulsions and decreases their surface tension.
Glycerin: May help skin retain moisture while reducing inflammation but also can cause skin irritation to sensitive skin.
How To Apply Dermactin – Ts Stretch Mark Complex
For best results & as per manufacturer guideline:
Clean and thoroughly dry your skin.
Vigorously massage a generous amount of Dermactin – TS into the affected area (thighs, stomach and arms).
Apply the product in circular motions until it is completely absorbed by the skin.
Before you apply the product to a large area in your body, make sure to do a patch test by applying a small amount in a small area in your forearm.
Observe the results. If itching and redness occurs, discontinue the use of the cream right away.
Benefits Of Dermactin – Ts Stretch Mark Complex
This product is suitable for women of varying ages and with different skin types.
The cream is affordable but there is no clear info about the price on official web page.
It can also boost the moisture in the skin.
Disadvantages Of Dermactin – Ts Stretch Mark Complex
The cream contains parabens.
It also has triethanolamine.
Most users claim that they did not see any visible results after months of use.
No substantial evidence is available to prove it is effective.
The combination of active ingredients is weak.
Does Dermactin – TS Stretch Mark Complex Have Any Side-Effects?
There are no documented Dermactin – TS Stretch Mark Complex side-effects on the user reviews. But based on the ingredients that the cream contains, there is a chance that you may experience the following:
Redness
Skin irritation
Watery eyes
Final Verdict: Dermactin – TS Stretch Mark Complex
Dermactin – TS Stretch Mark Complex may just be the perfect solution to stretch marks. However, the inclusion of triethanolamine and parabens in the formulation may irritate the skin and may do more harm than good.
**This is a subjective assessment based on the strength of the available information and our estimation of efficacy.
*Results may vary. The information contained in this website is provided for general informational purposes only. No medical claims are implied in this content, and the information herein is not intended be used for self diagnosis or self trealment of any condition.
Disclosure of Material Connection: Some of the links in the post above are "associate sales links." This means if you click on the link and purchase an item, we will receive a commission Regardless, we only recommend products or services which we use personally and/or believe will add value to our readers. We are disclosing this in accordance with the Federal Trade Commission's 16 CFR, Part 255: "Guides Concerning the Use of Endorsements and Testimonials."