Dermactin – TS Review: Is It Safe And Effective?
By
Dermactin
Dermactin - TS Stretch Mark Complex is said to Fade the look of stretch marks. Read our expert review for ingredients, benefits, side-effects and more.
Advertising Disclosure

?
Dermactin – TS Stretch Mark Complex Overview:
Dermactin – TS Stretch Mark Complex, USD 17 to 20 for a 6 oz tube, is marketed as a stretch mark cream that uses both organic and nonorganic ingredients in diminishing the appearance of stretch marks as well as fighting the signs of aging like wrinkles, fine lines, and sagging skin. If you are intrigued by what this product can do, please check out this Dermactin – TS Stretch Mark Complex review.
About Dermactin – TS Stretch Mark Complex – Does It Really Work?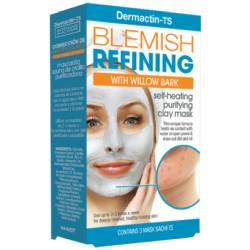 Dermactin – TS is manufactured by Fisk Industries. This is a company that has been on the market for over 40 years already. The company is dedicated to providing women from all ages with all skin types innovative and beauty and skin care products.
According to the company, they have formulated the cream to deliver the following benefits:
Improve the overall wellness and health of the skin.
Fade the look of stretch marks.
Target other signs of aging.
Address skin discolorations.
Fade marks that are caused by burns and rashes.
Improve the skin texture.
Boost skin firmness.
Pave the way for a smoother and youthful looking skin.
If you wish to know more, just keep on reading this review!
What Are The Ingredients In Dermactin – TS Stretch Mark Complex?
Here are some of the Dermactin – TS Stretch Mark Complex ingredients that you can find in the formulation:
Mango Seed Butter: This is said to be nourishing and has emollient properties that can moisturize the skin and heal scars.
Algae Extract: This can restore the youthful glow of the skin and revitalize dead skin cells.
Directions To Use:
For best results, clean and thoroughly dry your skin. Vigorously massage a generous amount of Dermactin – TS into the affected area (thighs, stomach and arms). Apply the product in circular motions until it is completely absorbed by the skin. Before you apply the product to a large area in your body, make sure to do a patch test by applying a small amount in a small area in your forearm. Observe the results. If itching and redness occurs, discontinue the use of the cream right away.
Benefits:
This product is suitable for women of varying ages and with different skin types.
The cream is affordable.
It can also boost the moisture in the skin.
Disadvantages:
The cream contains parabens.
It also has triethanolamine.
Most users claim that they did not see any visible results after months of use.
Does Dermactin – TS Stretch Mark Complex Have Any Side-effects?
There are no documented Dermactin – TS Stretch Mark Complex side-effects on the user reviews. But based on the ingredients that the cream contains, there is a chance that you may experience the following:
Redness
Skin irritation
Watery eyes
Dermactin – TS Stretch Mark Complex Customer Reviews:
Here are some of the Dermactin – TS Stretch Mark Complex reviews that we have found online:
"Ibought this product about a year and a half ago and found its way in the junk drawer in my bathroomafter reading I had to apply it 2-3 times a day! Fast forward to a month ago in front of my bathroom mirror I noticed tiny wrinkles forming around my eyes! I somehow stumbled upon this cream in my bathroom and began applying it religiously 2-3 times a day( those wrinkles scared the laziness out of me) and I can honestly say this stuff really works! i am so impressed with the tightnes of my skinm the smoothness, and those wrinkles have diminished considerably! I am feeling more and more confident everytime i apply this stuff! I will always have this stuff on hand! I actually use Mary Kay(not consistently) timewise system and i just add this into my regimen(except even when i don't use mary kay I still use my dermactin-TS since I can take it on the go with me and moisturize just about anywhere)" –Rachel on Amazon
"I bought this product about a month ago and used it every day, twice a day, as recommended. I haven't really noticed much of a difference in my stretch marks. I have had some noticeable white stretch marks on my chest and hips for the past 3-4 years after losing weight from playing sports and have been trying everything to get rid of them. The price and ratings seemed pretty good on this product so I thought I'd give creams one more chance. I would think I could see a slight difference in my stretch marks one day, but the next they seemed like they always did. On the other hand, the skin on my chest and hips did seem to become a little firmer. I am going to finish the last bit in the bottle, but if I don't see a noticeable change by the end, I will not buy it again. I know stretch marks are very hard to get rid of with creams, but it seemed like if any cream could lessen their appearance, it was this one. If anything, I think I am a good customer to review this item because I did follow directions every day as directed. However, if I notice somthing short of a miracle over the last few days of using this product, then I will glady revoke my review and write a new one. Unfortunately, I think I will have to just save up money and get laser treatments to remove them." – Alexis Smith on Amazon
Final Verdict:
Dermactin – TS Stretch Mark Complex may just be the perfect solution to stretch marks. However, the inclusion of triethanolamine and parabens in the formulation may irritate the skin and may do more harm than good.
Below you'll find some of the most effective Stretch Mark formulations on the market in our opinion:
Our Top Stretch Mark Creams