Dermagist Review: Does Dermagist Work?
By
Dermagist
An exclusive review of Dermagist Product, Know more about Dermagist Product.How Dermagist targets the problem like wrinkles, in this review.
Advertising Disclosure

?
Dermagist Overview
Dermagist is a company that produces a wide range of age-defying products that the website declares as 'miracle cosmeceuticals'. The products include eye gel serum, neck creams and acne reduction creams, which have the ability to fight wrinkles, reduce redness and fade age spots and they are all presented on the company website which is professional and easy to navigate. The company has changed its name from Dermajuv and while this is usually not a good sign within the business, the website devotes a section explaining why the change took place. Unfortunately contact details for the company are limited to a customer service number and e-mail address and there is no further background information on the company.
There are numerous customer testimonials cited on the website which all include 'before and after' photos. The products can all be purchased from the secure ordering page and Dermagist offer a full 30-day money back guarantee.
Dermagist- The Product Details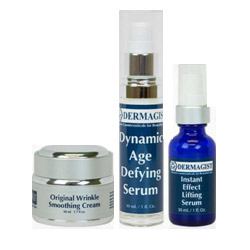 Although all Dermagist products can be purchased separately, one good package deal is the Complete Rejuvenation System which consists of the Original Soothing Cream, Dynamic Age Defying Serum and Instant Effects Lifting Serum. The three key ingredients used in the formulas are Sesaflash, a sesame protein which tightens and moisturizes, Matrixyl, a substance that has the ability to stimulate collagen production, and Renovage which is said to help diminish scarring and improve the skin's various functions. All ingredients used in each product are listed although only the main ingredients are explained.
It is recommended that Dermagist is used daily for 30-45 days after which time they can continue to be used every day or when required. The three products included in the system are sold at a cost of $129.99, which is less expensive than purchasing them separately
Active Ingredients in Dermagist
Sesaflash: A sesame protein which tightens and moisturizes skin.
Matrixyl: A substance that has the ability to stimulate collagen production.
Renovage: Helps diminish scarring and improve the skin's various functions.
Strengths of Dermagist
Ingredients have been clinically tested
The products have a 30-day money back guarantee
Customer testimonials are shown
The website is informative
The shopping section is secure
All ingredients are listed
Weaknesses of Dermagist
Dermagist is expensive
Company contact information is limited
The products are only suitable for one skin type
Dermagist The Bottom Line
Dermagist appears to be a reputable brand and they do supply a good amount of information about their products, unlike some rival brands. However, as with many tightening creams, the effects may be temporary and it is questionable just how effective they are in the long term. However, because there is a money back guarantee, any consumer can try the brand for themselves without making a huge financial sacrifice.
As we age the composition, texture and appearance of our skin changes. Signs of skin aging include wrinkles, fine lines, loss of moisture, uneven tone, and dull, tired-looking skin. There are countless anti-wrinkle creams on the market promising to make skin look and feel younger. Many anti-wrinkle creams promise everything short of a facelift or to provide the much sought after "fountain of youth". In reality most are just moisturizers marketed as anti-aging products.
Below you'll find some of the most effective wrinkle serum/cream formulations on the market today, in our opinion.
Our Top Wrinkle Creams
Dermatologist Recommendations for Maintaining Younger, Healthier, Vibrant Looking Skin:
Be certain to consistently apply the product(s) you choose in accordance with its directions for use;
Pay special attention to your neck and hands while applying the product(s) you choose, as these areas reflect your age;
Always use sunscreen with a Sun Protection Factor (SPF) of at least 15;
Drink at least eight glasses of water a day to stay well hydrated;
Avoid excessive intake of caffeinated and alcoholic beverages, as they may contribute to dehydration and exacerbate the appearance of fine lines and wrinkles; and
Be sure to get adequate rest every day.