Dermakin Review: Does This Anti-aging Cream Really Banish Wrinkles?
By
Dermakin
Does Dermakin anti-aging cream really banish wrinkles? Is it really effective?To know more, read our detailed Dermakin review before buying this product.
Advertising Disclosure

?
Dermakin Description
Dermakin is an anti-aging treatment which is sold online through a referral-based marketing system. It aims to help support a healthy appearance and, in particular, reduce the appearance of natural wrinkling around the eyes. We could not find reliable information with regards to the price of this product, but the relevant websites advertised "Rush my trial," which tends to suggest that it is a "trial and autoship" product. While we can't say this for certain, it is quite likely that you would pay about $5 to get a supply of the product, and the opportunity to try it out. If you do not cancel in that time, you will be billed $90 per month and sent a new supply of the product each month. These prices may vary slightly in either direction, but the sales model is frequent enough that you can probably count on it being close to the mark.
Dermakin Ingredients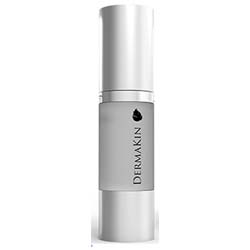 There are several ingredients described on the manufacturer's website, however, several of them do not seem to make sense – perhaps due to a translation error or a problem in writing the website. The primary ingredient is "Lavendox," a name for a derivative of Spanish lavender oil which is included to help smooth and tighten skin.
Directions
While we don't have clear directions, most products of this nature are applied to the area that is of most concern after washing and drying.
Dermakin Advantages
Automatic shipments can be convenient in many situations.
A trial offer is available (though be careful)
Dermakin Disadvantages
We could find no information on the full ingredients of this product, which can be a big problem for allergic or sensitive individuals.
No clinical research is cited to back up this product's claims.
The manufacturers' website is advertising-focused and does not seem to be written in coherent English; while this does not necessarily mean the product isn't legitimate, it does add a lot of uncertainty
We don't know the price of the product, even if similar products tend to cost about $90 a month
Conclusion
Dermakin is not an anti-aging supplement we can treat with confidence. The information available on its website is limited, marked by comparisons to Botox injections rather than providing us with solid info on why this product should be our choice. This extends to the point where we don't even know what the product costs on a monthly basis. That is a pretty big problem when it comes to making consumer decisions; you should look around for an anti-aging product that meets your own needs, and in which you can have real confidence.
As we age the composition, texture and appearance of our skin changes. Signs of skin aging include wrinkles, fine lines, loss of moisture, uneven tone, and dull, tired-looking skin. There are countless anti-wrinkle creams on the market promising to make skin look and feel younger. Many anti-wrinkle creams promise everything short of a facelift or to provide the much sought after "fountain of youth". In reality most are just moisturizers marketed as anti-aging products.
Below you'll find some of the most effective wrinkle serum/cream formulations on the market today, in our opinion.
Our Top Anti Aging Products