Dermalogica Active Moist Review : Ingredients, Side Effects, Detailed Review And More 
By
Dermalogica Active Moist Review
Dermalogica Active Moist : Does this product really work? Is this Anti Aging Cream safe & effective? Check detailed review, benefits, side-effects and more.
Advertising Disclosure

?
What Is Dermalogica Active Moist?
Dermalogica Active Moist, US $40 for 1.7 oz., is a daily moisturizer that rehydrates and rebuilds your skin while also providing future protection from damage and aging. Although it may not be suitable for all skin types.
Dermalogica was a direct offshoot of the International Dermal Institute where more than 70,000 students graduate every year. The brand was established to cater to the unmet needs and requirements of skincare therapists for high performance skin products which are simply not available direct from then existing brands of skincare products.
Dermalogica Active Moist – Does It Really Work?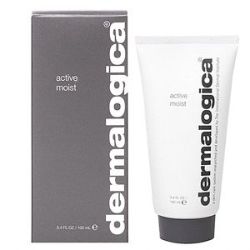 Based on claims made by this product's manufacturer, this product has been specially designed and formulated to deliver the following benefits for your skin:
Restore your skin's optimal moisture levels while also enhancing your skin's natural ability to effectively capture, store and gradually release moisture over longer periods of time.
Help restore your skin's overall health and vitality by boosting your skin's ideal nutrient content.
Smoothen, soften and brighten your skin.
Dermalogica works by moisturizing your skin but also, by enhancing your skin's overall health. It conditions, tones and lightens your overall complexion.
What Are The Ingredients In Dermalogica Active Moist?
Sik Amino Acids: Smoothen the surface texture of your skin, making your pores appear tighter and more refined.
Lemon Extract: Provides its natural astringent properties to tone and lighten your skin complexion.
Ethylhexyl Methoxycinnamate: Provides your skin with potent UV protection to stop sun damage from progressing as well as to prevent UV from damaging your skin in the future.
Butylene Glycol: This ingredient is a colorless organic alcohol used as a solvent and as a conditioning agent. This ingredient can cause a rashes and other forms of irritation in individuals with sensitive skin.
Dimethicone: This ingredient works as an anti-foaming agent. However can actually increase skin irritation.
How To Apply Dermalogica Active Moist
As per manufacturer claim:
Dermalogica Active Moist must be applied on skin after freshly cleansing and toning.
Apply a generous amount of the product to cover skin on your face, neck and chest.
Benefits Of Dermalogica Active Moist
This product best suits people with normal to oily skin types.
This product is infused with a sunscreen agent, although the SPF of which is not certified nor guaranteed.
This product is multi-tasking, as it provides your skin with moisturizing relief from dryness and prevailing environmental conditions, boosts your antioxidant levels, and even strengthens your skin's future health.
Disadvantages Of Dermalogica Active Moist
This product may not be as effective for people with dry to very dry skin types as the formula tends to dry out and may make the skin feel extremely dehydrated.
Several users, both those who were satisfied and not with this product, found this moisturizer to be significantly more expensive than other equally effective brands.
Many Dermalogica Active Moist reviews said that this product caused their skin to become irritated.
This product may lead to skin breakouts to certain skin types.
Does Dermalogica Active Moist Have Any Side Effects?
Based on this product's composition, the following side effects may be experienced:
Skin irritations and allergic reactions due to several ingredients, including fragrances andseveral botanical ingredients.
Increased risk for various forms of cancers due to PEG.
Increased risk for reproductive health-related diseases and dysfunctions due to EDTA.
Final Verdict: Dermalogica Active Moist
Dermalogica Active Moist will provide you with a moisturizing formula that tries very hard to give you added benefits that goes beyond conditioning your skin. However, this product will not suit everybody, and how it works depends a lot on what your skin needs.
Facial moisturizing products are in no short supply today, and this large selection might make the process of choosing the best moisturizer for your personal needs to seem a bit overwhelming. Fortunately, we've taken the time to research each of the top facial moisturizers on how they rate in several different key categories. More specifically, we believe that every quality moisturizer should provide the basic benefit of improving overall facial skin appearance, including both skin tone and skin texture. Additionally, a quality moisturizer should contain compounds that are capable of binding to collagen fibres in order to provide the most long term results. Finally, facial moisturizers should ideally be able to deeply cleanse skin at the same time that they moisturize it. Below is a summary of our findings regarding the top facial moisturizers and these key considerations.
Below you'll find some of the most effective Moisturizers formulations on the market in our opinion:
Our Top Moisturizers Products