Dermasilk Eye Lift: Does Dermasilk Eye Lift Work?
By
Dermasilk Eye Lift: Does Dermasilk Eye Lift Work?
This is an exclusive review of Dermasilk Eye Lift: know complete information pros, cons, prices etc about Dermasilk Eye Lift on the beauty insiders
Advertising Disclosure

?
Dermasilk Eye Lift Overview
Dermasilk is a brand of skincare products manufactured by Cosmedex. The Dermasilk range consists of a number of anti-aging treatments and the official Dermasilk website contains good information on the products and general skincare concerns. The Dermasilk Eye Lift cream claims to help users look up to 10 years younger in just 90 seconds and is designed mainly to be used when a quick 'lift' to the skin is required.
Dermasilk provide a customer service number, 60-day money back guarantee and secure ordering section. The Dermasilk Eye Lift is available in retail stores, but can also be purchased from the site at a cost of $49.99, with special discounts offers being provided on multiple orders.
Dermasilk Eye Lift– Product Description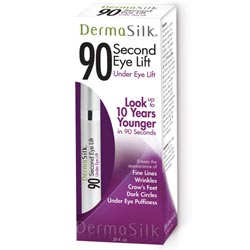 Unfortunately the information regarding the ingredients used in Dermasilk Eye Lift is very limited. Although they are all listed, no explanation is provided as to how they work to promote the reduction of lines and wrinkles around the eyes, while also decreasing dark circles and puffiness.
The ingredients listed for Dermasilk Eye Lift include Camomile, Soy Protein, Canadian Willow Bark and purified water. In addition to containing moisturizing substances, it is likely that Dermasilk Eye Lift uses a number of astringent ingredients which would result in the temporary tightening effect. It is not known how safe Dermasilk Eye Lift is for sensitive skin as it does contain fragrance.
Dermasilk Eye Lift- Advantage
The product is affordable
All ingredients are listed
There is a 60-day money back guarantee
Dermasilk Eye Lift is fast-acting
The Dermasilk website is professional
Before and After photos are shown
Dermasilk Eye Lift- Drawbacks
No customer testimonials are provided
Ingredient information is limited
The formula is not fragrance-free
No free samples are provided
Dermasilk Eye Lift- The Bottom Line
Because this product causes the skin to tighten, smoothing out the fine lines and wrinkles, it may have a somewhat drying effect on the skin. If this is so, it should really only be used occasionally and should probably be avoided by those with either sensitive skin or very dry skin.
Purchasing an eye cream is a fairly committed decision, since each container of these products tends to last for a fairly substantial period of time. Therefore, eye creams must be evaluated on their ability to deliver a number of desired results. For example, in addition to being affordable, an ideal eye cream must be able to reduce the depth, length, and surface area of wrinkles, crow's feet, and other fine lines. At the same time, an eye cream should also offer relief from puffiness and dark under-eye circles, helping individuals appear refreshed and well rested on a daily basis. Finally, an eye cream should also contain quality ingredients that provide much needed nourishment in the form of hydration to skin cells; such hydration can help delay the onset of wrinkles in the first place. Below, we've evaluated the ability of several of the top eye cream products to deliver these important benefits.
Top Eye Creams
Also Remember These Dermatologist Recommended Important Tips:
Age has nothing to do with the lines that appear on the corners of your eyes... it's a combination of heredity and careless abuse of the area.
Skin is skin... it all needs to be cared for in one way or another. For my younger readers, this means not pulling on the skin when removing eye makeup.
The eye area is prone to fine lines and wrinkles, so it is really important not over-work the area, squint, and stay away from smokey rooms. Your eyes won't like that either.
One of the best ways to protect this area of your face is to put on a pair of sunglasses every single time you go outside spring, summer, fall and winter.
There are very few oil glands in the eye area, so it can dry out very quickly, especially if you spend a great deal of time out of doors.
When you chose an eye cream, be sure to choose one that is especially formulated for this delicate skin. Don't use a day cream that could be full of ingredients that will irritate this area. Too rich a cream can cause as many problems as ignoring the area.