DHC White Sunscreen SPF 25 Reviews – Should You Trust This Product?
Advertising Disclosure

?
What Is DHC White Sunscreen SPF 25?
DHC White Sunscreen SPF 25, is a mineral sunscreen that provides you with broad spectrum UVA and UVB protection while simultaneously brightening your skin tone.
DHC is a company that did not become immediately involved in the skincare and beauty industry when it was founded in 1972. By 1980, the product started formulating products that consisted of olive oil, a powerful ingredient that helps repair and regenerate skin. Today, DHC has become a recognized player in skincare, and has since expanded its operations now reaching the US, France,Shanghai, South Korea, Tawian and Hong Kong, with business interests in the nutritional supplements, food, jewelry, clothing and housewares industries.
This product cost US $49.63 for 30 ml
However there are many other well known brands in the market with similar effects and ingredients and they come in a affordable range.
DHC White Sunscreen SPF 25 : Does It Really Work?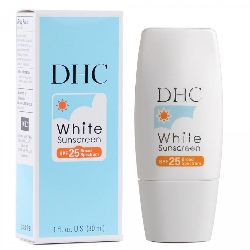 This product is designed to deliver the following benefits for your skin:
Provide broad spectrum UVA and UVB protection that uses only mineral sunscreen components, safer alternatives to chemical sunscreen actives
Boost your skin's antioxidant protection levels
Promote your skin's natural glow and radiance
This product makes use of mineral sunscreen actives to create another layer on top of your skin surface that will protect it from damage and aging caused by UV exposure. The UV protection function is amped up with the addition of antioxidants. Simultaneously, this product promotes your brighter complexion with the addition of alpha arbutin.
What Are The Ingredients In DHC White Sunscreen SPF 25
Titanium Dioxide (5.0%) and Zinc Oxide (10.0%): Physical sunscreens that protect your skin from skin damage and aging caused by UV
Olive Oil: Provides antioxidant protection, it also helps restore your skin's optimal moisture levels to revitalize your skin cells and your skin matrix
Magnolia Bark Extract: Contains significant amounts and a powerful variety of antioxidants that provides even more protection than most other antioxidants commonly added to skin care products, it also has anti-inflammatory properties that soothe and calm skin irritations.
Glycerin: This ingredient helps skin retain moisture while reducing inflammation but also can cause skin irritation to sensitive skin.
Benefits Of DHC White Sunscreen SPF 25
This product is lightweight, absorbs quickly, and is instantly hydrating to the skin.
The formula is mildly scented, leaving your skin with a refreshing after application smell that is very light and does not linger.
This product makes use of mineral sunscreens only, and does not have chemical sunscreens which are associated with many side effects that affect your overall health and well-being. Although there is no clinical evidence backing up this claim.
Disadvantages Of DHC White Sunscreen SPF 25
Since this product is formulated with mineral sunscreens, it leaves a white cast on your skin which changes the tone of your foundation so, make sure to check out how it affects your foundation before going out wearing this with your day time makeup.
Several DHC White Sunscreen SPF 25 reviews cited that this product is too expensive relative to most other day time sunscreens made for daily application.
This product is not suitable for all skin types.
This product may cause skin irritation.
Does DHC White Sunscreen SPF 25 Have Any Side Effects?
Based on this product's composition, the following side effects may be experienced:
Skin irritations and allergic reactions due to several ingredients, including several synthetic ingredients
Increased risk for cancers due to PEGs
Increased risk for clogged pores and breakouts due to silicones
How To Apply DHC White Sunscreen SPF 25
Apply DHC White Sunscreen SPF 25 at least 15 minutes before stepping out into the open. Reapply throughout the day, after sweating profusely or, after your skin gets wet.
Final Verdict: DHC White Sunscreen SPF 25
DHC White Sunscreen SPF 25 is certainly one of the better, safer alternatives to toxic chemical sunscreens. On top of sun protection, this one adds a skin lightening function. However, this product will not suit all skin types nor fit all intended uses. If you are looking for a product to help you stay protected doing water sporting activities, or, want to use it regularly with your makeup, this may not be the best product that will work best for your purpose.
Below you'll find some of the most effective Sunscreens formulations on the market in our opinion:
Our Top Sunscreens
**This is a subjective assessment based on the strength of the available information and our estimation of efficacy.
*Results may vary. The information contained in this website is provided for general informational purposes only. No medical claims are implied in this content, and the information herein is not intended be used for self diagnosis or self trealment of any condition.
Disclosure of Material Connection: Some of the links in the post above are "associate sales links." This means if you click on the link and purchase an item, we will receive a commission Regardless, we only recommend products or services which we use personally and/or believe will add value to our readers. We are disclosing this in accordance with the Federal Trade Commission's 16 CFR, Part 255: "Guides Concerning the Use of Endorsements and Testimonials."