Disadvantages of Venus Freeze Anti-aging Treatment
Venus Freeze is a non-invasive alternative to surgical body sculpting procedures such as liposuction. This procedure uses a new technology called (MP)² that uses Magnetic Pulse Technology touted to help generate the creation of new capillaries. (MP)² stimulates the production of FGF, a hormone that is responsible for the generation of capillaries and the increase of dermal fibroblasts.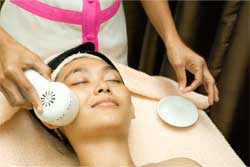 The best advantage of using Venus Freeze is that it is 100% safe to use since Magnetic Pulse Technology is considered a very safe procedure and even a beneficial technology for a person's health. Of course since it's a nonsurgical procedure, Venus Freeze costs significantly less than a liposuction process.
For all its highly praised recommendations, when subjected to actual clinical tests, Venus Freeze fails in many aspects. A study published in the internet showed that Venus Freeze failed to address abdominal adiposity or stomach fat as well as failed to tighten the skin of the abdomen. Venus Freeze did not produce any tangible results at all according to the study. Compared to other types of non surgical procedures (physiotherapy and ultrasound) Venus Freeze was found to be inferior to them.
Furthermore actual testimonials regarding the benefits of Venus Freeze are hard to find online. If there are comments from users of this product, they are usually negative often stating that Venus Freeze is ineffective and even though it is less costly than a liposuction procedure, the client needs to dish out about $180 per treatment. Also, the whole process may take a total of 7 treatments before Venus Freeze can provide any results.
Some shops offering Venus Freeze say that in order to see results, one needs to go through the whole process of 7 to 8 treatments. This means you get to spend over a thousand dollars before you get to see any difference in your skin and body. Many of the complaints about this product are about its failure to tighten the skin or if some skin tightening is experienced by the user it is not really that good.
Ineffective for Cellulite Problem
Venus Freeze also does nothing when it comes to cellulite removal. Cellulite is actually a skin problem quite difficult to address and even liposuction is not an advisable procedure for this skin condition. In order to determine the best non surgical procedure for your specific weight and skin condition, talk to your doctor who may recommend a truly effective weight loss and skin enhancing procedure for you. Also talk to a friend, a trusted acquaintance or a family member who has undergone a non invasive procedure that addressed his weight problem well and helped tighten the skin where weight was lost.
Recommendation
Although many people had reported that Venus Freeze did not work for them and it even caused some associated weight problems, there were also users claiming that it's effective. We recommend that you further your research before trying Venus Freeze as the result may vary from person to person.
As we age the composition, texture and appearance of our skin changes. Signs of skin aging include wrinkles, fine lines, loss of moisture, uneven tone, and dull, tired-looking skin. There are countless anti-wrinkle creams on the market promising to make skin look and feel younger. Many anti-wrinkle creams promise everything short of a facelift or to provide the much sought after "fountain of youth". In reality most are just moisturizers marketed as anti-aging products.
Below you'll find some of the most effective wrinkle serum/cream formulations on the market today, in our opinion.
Our Top Wrinkle Creams
Dermatologist Recommendations for Maintaining Younger, Healthier, Vibrant Looking Skin:
Be certain to consistently apply the product(s) you choose in accordance with its directions for use;
Pay special attention to your neck and hands while applying the product(s) you choose, as these areas reflect your age;
Always use sunscreen with a Sun Protection Factor (SPF) of at least 15;
Drink at least eight glasses of water a day to stay well hydrated;
Avoid excessive intake of caffeinated and alcoholic beverages, as they may contribute to dehydration and exacerbate the appearance of fine lines and wrinkles; and
Be sure to get adequate rest every day.