Divoire Cream Review: Is It Safe And Effective?
By
Divoire Cream
Divoire Cream: Does this product really work? Is this anti-aging-cream safe & effective? Check Customer Reviews, ingredients, benefits, side-effects and more.
Advertising Disclosure

?
Divoire Cream Overview:
D'ivoire Skin Fairness Cream is an anti-aging cream that is exclusively available for online purchase which requires you to sign up for a limited time free trial offer that obliges you to disclose your credit card information.
About Divoire Cream — Does It Really Work?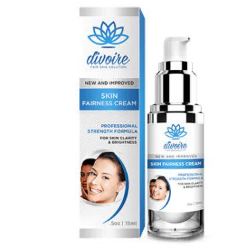 There is no information available about this product's manufacturer, making it impossible to establish its maker's credibility and successful track record in anti-aging skin care. All information available about this product is based on those provided by third parties only which cannot be validated in the absence of official manufacturer and product websites.
Based on claims made about this product, it has been formulated to deliver for you the following benefits:
Improve your skin tone and promote a more radiant overall skin complexion
Tighten your pores to give you a smoother, silkier skin texture
Firm, lift and improve your skin's elasticity
Significantly flood your skin with moisture as it simultaneously aids in restoring your skin's optimal hydration functions
Help restore your skin's protective barrier layer to prevent moisture from escaping from your skin and promote skin that is more resilient to damage as well
Noticeably improve the appearance of wrinkles and fine lines
What Are The Ingredients In Divoire Cream?
Piperlongumine: It inhibits melanin production which, in turn, causes age spots, acne scars, and other dark marks to lighten and, with long-term product application, also promotes a naturally glowing skin
Licorice Root Extract: It has natural skin lightening properties that even out hyper pigmentation problems while also promoting a more radiant overall complexion
Vitamin E: Acts as a powerfully protective antioxidant that shields your skin from damage, it also deeply soothes your skin and facilitates skin healing and rejuvenation
Niacinamide: A poweful antioxidant that also improves your skin's moisture and radiance, and enhances micro circulation to improve nutrient uptake
Aloe Vera: Facilitates faster and more effective skin healing as it works closely with your skin's natural physiological mechanisms for renewal, and it also supports the refortification of your skin's natural barrier protection
Lemon Juice Extract: It has natural astringent properties that supports lightening of dark skin imperfections, and promotes a tighter skin and a more even skin tone
Directions To Use:
Divoire Cream must be applied on your face, neck and chest generously, day and night. For better product absorption, make it a point to apply this product on newly cleansed or exfoliated skin only.
Benefits:
Divoire Cream has a sheer and lightweight consistency that makes it easily absobent and capable of penetrating your skin more deeply.
This product has been formulated to deliver multiple age defying benefits that support the restoration of a healthier, more youthful skin best suited for aging skin.
Disadvantages:
This product appears to have a very limited distribution network which makes it not very easy to access.
The manufacturer's willingness to be accountable for product results cannot be established.
This product's full ingredients list is not disclosed, while the list of primary ingredients provided by third party websites are inconsistent.
Divoire Cream reviews are practically not available, giving limited information about this product's actual performace.
Does Divoire Cream Have Any Side Effects?
In the absence of a full disclosure fo ingredients and the equally unavailable independent product reviews, the only side effects that may be experienced when using D'ivoire Skin Fairness Cream are allergic reactions to one or more components of this product's formula.
Final Verdict:
D'ivoire Cream contains no less than the basic ingredients your aging skin needs to get back into its youthful shape. When you're serious about keeping wrinkles and other visible signs of skin aging off, however, antioxidants are a huge requirement which this product appears to lack. Although, even that cannot be validated due to the maker's failure to disclose this product's full ingredients list. This product will possibly deliver improvements but, it simply runs short of key ingredients aging skin needs to stay healthy and younger-looking.
As we age the composition, texture and appearance of our skin changes. Signs of skin aging include wrinkles, fine lines, loss of moisture, uneven tone, and dull, tired-looking skin. There are countless anti-wrinkle creams on the market promising to make skin look and feel younger. Many anti-wrinkle creams promise everything short of a facelift or to provide the much sought after "fountain of youth". In reality most are just moisturizers marketed as anti-aging products.
Below you'll find some of the most effective wrinkle serum/cream formulations on the market today, in our opinion.
Our Top Anti Aging Products