DNA Renewal Eye Balm Review:Ingredients, Side Effects, Detailed Review And More.
Advertising Disclosure

?
What is DNA Eye Balm?
DNA Renewal Eye Balm is a skin care anti-aging-cream product that is designed to delay and reverse aging signs. It reduces wrinkles, fine lines and dark spots from appearing on the skin. It utilizes the liposome delivery system that ensures it penetrates into the skin.
DNA Renewal Company manufactures it. The manufacturer claims that it helps to restore the DNA repair enzymes[1] that prevent the DNA from being damaged. It helps to fight and reverse the aging signs under the eye area.
To learn more about the DNA Eye Balm product have a look to its review. It provides you with the working formula and benefits it on your eyes.
DNA Eye Balm – Does It Really Work?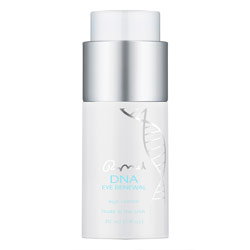 DNA Eye Balm claims to deliver its desired results to you. It contains a potent formula that helps to combat the skin area under eye from ultraviolet ray's damage. It prevents the skin from losing the collagen, which helps to reduce the wrinkles.
It helps to replenish the DNA repair enzymes in the skin around the eye area that prevent the DNA damage. It penetrates deep into the skin, which allows it to reverse the DNA damage such as the wrinkles, dark spots, and discoloration.
What are the Ingredients in DNA Eye Balm?
Its formula is well blended to deliver its claims on its review. They are natural and works together to stimulate the growth of the skin and also increase the collagen production. DNA Eye Balm has the following ingredients:
Growth factor – It is derived from barley seeds and helps to boost the production of the collagens, which contributes to tighten the skin.
DNA repair enzymes – They are derived from marine resources and support to supplement the body natural DNA repair process.
Hyaluronic Acid – It helps to reduce the inflammation and hydrates the skin an also encourages a health production of lips that strengthens skin.However sometimes it causes bruising, redness and itching on skin.
Jojoba Seed Oil – It has an anti-inflammatory effect that helps to reduce the redness and keep skin calm and also helps to moisturize the skin.
Glycerin – It hydrates the skin that helps to maintain healthy feeling and look.
How To Apply DNA Eye Balm
To use this product the manufacturer recommends you to gently apply a small amount of balm in the morning and night to the entire eye area.
You can consult a physician on the usage instruction.
Benefits of DNA Eye Balm
It replenishes the DNA repair enzymes.
It reduces wrinkles and fine lines.
It increases the production of collagen.
It promotes cell regeneration.
It enhances the skin appearance.
Disadvantages of DNA Eye Balm
It has few reviews.
They don't offer a money back guarantee if not satisfied with the product.
According to customer reviews, it isn't very effective.
It contains Glycerin which itching or swelling.
It also contains Hyaluronic acid which causes redness on skin.
Does DNA Eye Balm Have Any Side-Effects?
DNA Eye Balm has the following side effect:
It can cause some allergic reaction if you're allergic to some of its ingredients.
Final Verdict : DNA Renewal Eye Balm
DNA repair process in the body starts to decrease naturally at the age of 30 years. Therefore a person begins to experience the aging signs such as fin line, wrinkles, sagging skin, and dark spots. Thus, creating a need to supplement them, this leads the formulation of products that helps to replenish the DNA repair enzymes.
DNA Renewal Eye Balm is one of the skin care product on the market today. It claims to replenish DNA repair enzymes in the skin around the eye area but it may cause redness,itching or swelling on skin.Its review gives its ability to reverse and prevents aging signs from appearing in the area around the eye.It does not offer return policy.
Before introducing this formula into your body, it is necessary to research for information about it and ingredients used. This is will assure you of its ability to deliver its desired results and its safety.
As we age the composition, texture and appearance of our skin changes. Signs of skin aging include wrinkles, fine lines, loss of moisture, uneven tone, and dull, tired-looking skin. There are countless anti-wrinkle creams on the market promising to make skin look and feel younger. Many anti-wrinkle creams promise everything short of a facelift or to provide the much sought after "fountain of youth". In reality most are just moisturizers marketed as anti-aging products.
Below you'll find some of the most effective wrinkle serum formulations on the market today, in our opinion.
Our Top Anti Aging Products
**This is a subjective assessment based on the strength of the available information and our estimation of efficacy.
*Results may vary. The information contained in this website is provided for general informational purposes only. No medical claims are implied in this content, and the information herein is not intended be used for self diagnosis or self trealment of any condition.
Disclosure of Material Connection: Some of the links in the post above are "associate sales links." This means if you click on the link and purchase an item, we will receive a commission Regardless, we only recommend products or services which we use personally and/or believe will add value to our readers. We are disclosing this in accordance with the Federal Trade Commission's 16 CFR, Part 255: "Guides Concerning the Use of Endorsements and Testimonials."