Dolce and Gabbana Spring 2012: Fashion Week Handbags
Browse through the pictures of latest handbags for Spring 2012 by Dolce and Gabbana. At this Fashion Week, Domenico and Stefeno had represented some unique collection of their clothes, mixed with some D&G accessories of their own choice. Both the designers are aware of what a woman realy likes and even actively love. Dolce and Gabbana featured some insane prints of pasta, tomatoes, eggplants and peppers. The complete environment was filled with fun and colorful though a sound track of Sophia Loren singing "Mambo Italiano".
In the Show, we found some colorful fashion accessories like decked bracelets, shoes and necklaces but their colorful handbags took the attention. Handbags were made up of straw with the top handles in all the colors. Raffia materials are going to be the biggest trend for spring 2012. All the vibrant multicolored handbags were masterpiece that will suit the individuals personality.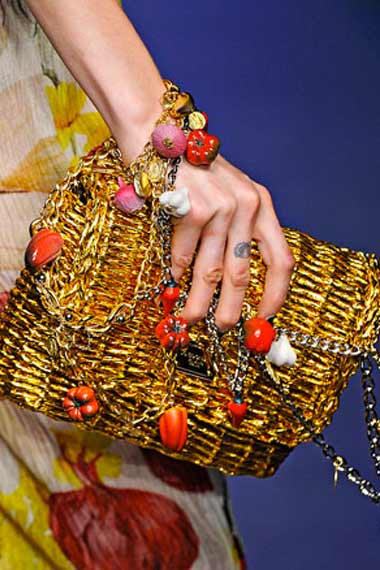 The Brand has used woven materials in many of its bags but the D&G straw option are better than all handbags. Fashion wise this was the smart piece and best collections of the season in Italy. The most apreciated parts were 3-D lace, and all those colorful prints and handbags.
Photos via Dolce and Gabbana