Dr. Lewinn By Kinerase Lift & Resculpt Anti Wrinkle Cream Review
By
Lift & Resculpt Anti-Wrinkle Cream
Lift & Resculpt Anti-Wrinkle Night Cream fights signs of aging & replenish skin. Know about it more in our detailed Review
Advertising Disclosure

?
Dr. Lewinn Description
Lift & Resculpt Anti-Wrinkle Night Cream helps fight signs of aging and can be used at night in order to protect and replenish skin. Consistent use can help decrease the appearance of wrinkles and the cream is available in containers of 1.7 fl oz at the cost of $27.49. It was founded by Dr. LeWinn by Kinerase, with the assistance of one of the most accomplished plastic surgeons in the world.
Dr. Lewinn Ingredients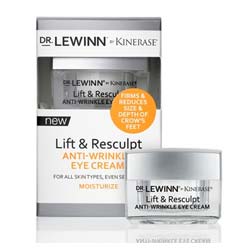 Kinetin: Moisturizes the skin. Research is promising and shows this ingredient may help tighten skin and fight obvious signs of aging such as wrinkles and fine lines.
LOXL Activator: Derivative of dill. Tightens the skin, targets elastin fibers to promote their production, and lifts skin to promote a refreshed appearance.
Snap-8 Peptide: An octapeptide. Helps relax facial muscles in order to fight signs of aging, decrease the appearance of wrinkles, and fine lines.
Dr. Lewinn Directions
Clean skin and apply in the evening. Can be used morning and night to achieve desired results. Massage into the skin until it is fully absorbed.
Dr. Lewinn Advantages
Has a unique product formula compared to other competitors.
Lift & Resculpt Anti-Wrinkle Night Cream was created with the assistance of a world renowned plastic surgeon.
Only night-time application is necessary, but the cream can also be used in the morning if necessary.
Dr. Lewinn Disadvantages
Many ingredients in the product aren't well-known and the entire list of components or their amounts is not included.
Little is known about the company that created the product.
Not all reviews of the product are favorable.
No evidence is provided that the product can live up to its claims or that it has been tested.
Some clients reported negative reactions.
A money-back guarantee or return policy isn't mentioned for this product.
Customers are encouraged to test a portion of the cream on their skin to ensure the product is compatible with their skin type.
Links to studies or tests that can corroborate the data cited by the manufacturer are not provided.
Conclusion
Lift & Resculpt Anti-Wrinkle Night Cream by Kinerase helps decrease visible signs of aging such as wrinkles, fine lines, and crow's feet. The cream has simple directions and is sold at a reasonable price compared to other anti-aging products. Still, there is some confusion over the product's availability because not all retailers that have links to the product still sell it. Customer reviews are also mixed and the product may not be suitable for all skin types. People must test the cream on a portion of their skin to ensure the product will deliver desire results or ensure no adverse reactions. A return policy or money-back guarantee is also not mentioned, and this may dissuade prospective customers from buying the product.
As we age the composition, texture and appearance of our skin changes. Signs of skin aging include wrinkles, fine lines, loss of moisture, uneven tone, and dull, tired-looking skin. There are countless anti-wrinkle creams on the market promising to make skin look and feel younger. Many anti-wrinkle creams promise everything short of a facelift or to provide the much sought after "fountain of youth". In reality most are just moisturizers marketed as anti-aging products.
Below you'll find some of the most effective wrinkle serum/cream formulations on the market today, in our opinion.
Our Top Wrinkle Creams
Dermatologist Recommendations for Maintaining Younger, Healthier, Vibrant Looking Skin:
Be certain to consistently apply the product(s) you choose in accordance with its directions for use;
Pay special attention to your neck and hands while applying the product(s) you choose, as these areas reflect your age;
Always use sunscreen with a Sun Protection Factor (SPF) of at least 15;
Drink at least eight glasses of water a day to stay well hydrated;
Avoid excessive intake of caffeinated and alcoholic beverages, as they may contribute to dehydration and exacerbate the appearance of fine lines and wrinkles; and
Be sure to get adequate rest every day.