Ear Makeup Art, is it the Next Big Thing or Not?
After losing your pair of earrings, the thought of your ears appearing bear can be depressing. The next option would be to give ear makeup a chance. The Louis Vuitton runway (2016) spring has definitely brought this crazy trend to the next level. This article captures the different responses the trend has received over the past.
Professional Assistance
When it comes to making and drawing the design, it is not difficult. You can use an eyeliner of crazy colors. This make up trend goes well with a don't-care mermaid hair style. You simply have to make a trace of the ear folds. It is easy to do, but you certainly require the assistance of a professional makeup artist. For the runway, you can explore a wide range of artistic ear makeup, but for a regular day at the office, it will certainly look unprofessional (weird colors). The ears happen to be among the weird parts of the body, hence applying makeup can attract different views.
For the office, try exploring ear contouring. Ensure the makeup you use on your face is similar to the one you use on the ears.
Response it is Getting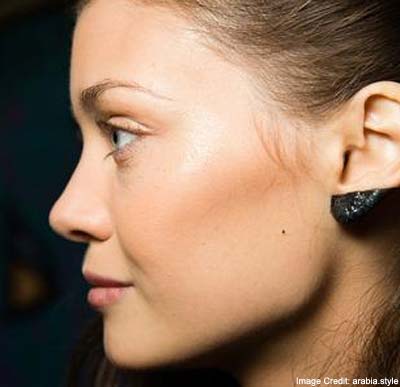 The look on its own makes a statement, so on a day you want to have your lobes bare, you can comfortably rock it as it looks really cool. However,once you are outdoors, the look that you receive from people will obviously make you go back and remove the makeup. This trend may take some time before it gets accepted fully. This is because people either do not notice, and if they do, they have a weird reaction towards it.
This look requires "the non-faint at heart". Of course you may not receive compliments but certainly people will have opinions about it. A colored one may not appeal to many, however metallic may receive some likes. Time may be the only telling factor that people will gain interest in this work of art. Since there have been crazier trends before, there might be a chance for it.
You May Also like – A Professional Way Of Applying Makeup
Celebrities
There are a number of celebrities who would definitely take this trend to a whole new level. It all depends with the following they have. For instance, Rihanna would definitely make the trend appealing to a large mass. Before this happens, the trend would look better on the fashion models on the runway.
Kylie Jenner has a large fun base that wants to try all her make up moves. She has managed to make this trend worthwhile as much as it looks and sounds crazy. Ear contouring has gone a notch higher, now people are seeing the essence of art makeup on the ears.
Makeup artist Professional
Some makeup artist have spoken out the importance of this makeup trend. This is because it ensures your complexion looks even and well-toned. Contouring of the ears ensures your face, neck and ears have the same complexion. Most people make the mistake of only applying makeup on the face, forgetting that the other two important areas that are visible. If you avoid contouring your ears, it becomes easily noticeable that you have a layer of make up on your face, making it not appear natural.
Read Also – Tricks to Have a Long Lasting Makeup Effect
Conclusion
It is sometime good to explore other makeup options. This trend will take the limelight soon, but it may certainly take a different course all together and shock the masses in appositive way. You should be open and ready to accept change, as this new trend may make more sense that people will no longer ignore it. Therefore, being open minded may just be the trick.
Like this post? There's more. Get tons of beauty tips, tutorials, and news on the thebeautyinsiders Facebook & Twitter page. Like us on Facebook – we'll see you there!