Ecoplanet Aromatherapy Cream Anti-Cellulite Review : Ingredients, Side Effects, Detailed Review And More 
By
Ecoplanet Aromatherapy Cream Anti-Cellulite
Ecoplanet Aromatherapy Cream Anti-Cellulite: Does this product really work? Is this Cellulite Cream safe & effective? Check Customer Reviews, benefits and more.
Advertising Disclosure

?
What Is Ecoplanet Anti-Cellulite Cream?
As per the manufacturer, Ecoplanet Aromatherapy Cream Anti-Cellulite, around US $26.60 for a 1 kg jar, is a cellulite reduction cream that has been formulated to deliver multiple benefits to cellulite-challenged areas of your skin, and even comes with scar healing functions.
This product is brought to you by ecoplanet, an India-based skin care company that primarily caters to the product requirements of spas, including aromatherapeutic products that have been claimed to rejuvenate the senses. All ecoplanet products are sold at wholesale quantities and prices to health and wellness entities that include spas, resorts and hotels. Although there are very few reviews online to back the company claims.
Ecoplanet Anti-Cellulite Cream — Does It Really Work?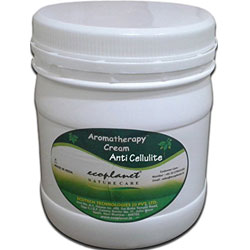 Based on claims made by the manufacturer, this product has been formulated to deliver for you the following benefits:
Help facilitate fat burn over cellulite-challenged areas of your skin.
Promote a better toned skin with a firmer and plumper structure.
Support your skin's natural mechanisms for skin healing and repair to smoothen end even out the tone and texture of scars.
Fade and smoothen the appearance of cellulites.
Improve local fat metabolism and fluid drainage.
What Are The Ingredients In Ecoplanet Anti-Cellulite Cream?
Aloe Vera Gel: It helps strengthen your skin's surface texture and structure, making your skin more resilient to damage as well as thickening your skin to make cellulites appear noticeably faded and smoother. Although it may also cause rashes on the skin & itchy skin.
Shea Butter: It significantly plumps your skin with added conditioning as it simultaneously promotes faster skin healing and repair.
Olive Oil: Loaded with powerful antioxidants, it helps revive your skin's vitality in delivering its repair and healing functions.
Essential Oils: Derived from grapefruit, lemon, ginger, black pepper, clove leaf, and lime, these oils deliver therapeutic benefits to your skin as well as a relaxing overall experience to the senses, all while simultaneously deeply penetrating your skin to support faster skin healing and intense skin conditioning.
How To Apply Ecoplanet Anti-Cellulite Cream
For best results the manufacturer suggest:
Apply Ecoplanet Anti-Cellulite Cream over affected skin areas for up to two times daily.
To enhance these product's benefits, apply over freshly scrubbed skin to allow more of its beneficial components to deeply penetrate your skin.
Benefits Of Ecoplanet Anti-Cellulite Cream
Ecoplanet Anti-Cellulite Cream doubles as a scar healing salve to help even out the appearance of scar marks.
This product is helps to reduce fat.
This product also helps to tighten skin. Although there are limited reviews regarding this claim.
Disadvantages Of Ecoplanet Anti-Cellulite Cream
Ecoplanet Anti-Cellulite Cream reviews are severely limited, providing very little firsthand information about actual user experience with this product.
This product appears to deliver on its claims by merely delivering ingredients that plump skin but, there's no indication that these will burn excess fats, improve fluid drainage or, enhance blood flow which have longer-lasting effects on cellulite-challenged skin.
This product appears to have a limited availability with possibility that it may only be available in India.

There are not many reviews online to back the companies claim.
Does Ecoplanet Anti-Cellulite Cream Have Any Side Effects?
Based on the ingredients and reviews, the only side effects that may be experienced when using Ecoplanet Aromatherapy Cream Anti-Cellulite are skin irritation and allergic reactions due to several ingredients, including several botanical ingredients, depending on your history of allergy and your skin type.
Final Verdict : Ecoplanet Aromatherapy Cream Anti-Cellulite
Ecoplanet Anti-Cellulite Cream may be great for containing mostly natural ingredients. The sad part is that there is no information available about this product's full ingredients list. It also appears to have a limited availability which may not make it easy to maintain as part of your daily skin care routine.
Cellulite refers to fat deposits under the surface of the skin giving it a dimpled, irregular appearance. The vast majority of women have cellulite, some estimates are as high as 90 percent. Cellulite is routinely found in the thighs, hips, buttocks, and stomach. Unfortunately, maintaining an optimal body weight, eating healthy, staying active, and even regular exercise may not be enough to combat cellulite. 
Below you'll find some of the most effective cellulite cream formulations on the market today, in our opinion.
Our Top Cellulite Creams Product
**This is a subjective assessment based on the strength of the available information and our estimation of efficacy.
*Results may vary. The information contained in this website is provided for general informational purposes only. No medical claims are implied in this content, and the information herein is not intended be used for self diagnosis or self trealment of any condition.
Disclosure of Material Connection: Some of the links in the post above are "associate sales links." This means if you click on the link and purchase an item, we will receive a commission Regardless, we only recommend products or services which we use personally and/or believe will add value to our readers. We are disclosing this in accordance with the Federal Trade Commission's 16 CFR, Part 255: "Guides Concerning the Use of Endorsements and Testimonials."