Elizabeth Arden Prevage Night Anti-Aging Restorative Cream Review: Ingredients, Side Effects, Customer Reviews And More.
By
Elizabeth Arden Prevage Anti-Aging Cream
Elizabeth Arden Prevage Night Anti-Aging Restorative Cream: Is this Anti-aging Cream safe & effective? Check Customer Reviews, benefits, side-effects and more.
Advertising Disclosure

?
Elizabeth Arden Prevage Anti-Aging Cream Overview:
Elizabeth Arden Prevage Night Anti-Aging Restorative Cream, US $137 for a 1.7 oz. jar, is an overnight anti-aging moisturizer boost that rejuvenates your skin while you sleep.
About Elizabeth Arden Prevage Anti-Aging Cream — Does It Really Work?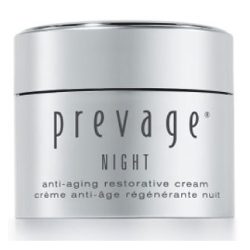 This product is brought to you by Elizabeth Arden, the company established by an influential woman to serve the beauty and grooming requirements of women. According to its founder, "To be beautiful is the birthright of every woman." What started out as a chain of salons across the USA has, today, become one of the world's most recognized luxury brands competing in the skin care, cosmetics, personal care, and fragrance categories.
Based on claims made by the manufacturer, this product has been formulated to deliver for you the following benefits:
Replenish your skin's lost moisture to restore optimal moisture levels overnight.
Support the more efficient and faster rates of delivery of multiple mechanisms that restore and renew your skin back to its youthful vitality and appearance.
Improve your skin's texture, making the surface appear smoother and tighter.
Protect your skin from and help it better cope with pollution and other environmental stressors.
With regular use, visible signs of skin aging appear faded as your complexion appears brighter and more radiant.
What Are The Ingredients In Elizabeth Arden Prevage Anti-Aging Cream?
Idebenone Ester: A powerful, synthetically fused antioxidant that is capable of time-release ensuring that your skin is well-protected from environmental cause of damage and aging all day and night.
Hydroxyppinaccolone-retinoate: A Vitamin A derivative that delivers anti-aging properties that helps restructure your skin, as it promotes improved elasticity, firmness and tightness.
Colorless Carotinoids: This complex further amps up your skin's antioxidant protection, as it also simultaneously renders anti-aging functions that help speed up skin repairs and turnovers necessary to reveal a newer, younger, lesser damaged skin.
Lemon Peel Extract: It has natural astringent properties that helps improve your skin tone and lighten the appearance of age spots and other hyper pigmentation issues on your skin.
Directions To Use:
Elizabeth Arden Prevage Anti-Aging Cream must be applied generously on cleansed skin as part of your evening routine.
Benefits:
Elizabeth Arden Prevage Anti-Aging Cream is highly moisturizing but, won't leave your skin greasy.
This product is also available in Prevage MD variety which delivers higher potent formulation with less of the skin sensitizing ingredients.
Disadvantages:
This product issignificantly more expensive than most other overnight creams.
Elizabeth Arden Prevage Anti-Aging Cream reviews indicate that the formula has a strong scent which many users may not find pleasing.
Does Elizabeth Arden Prevage Anti-Aging Cream Have Any Side Effects?
Based on the ingredients and reviews, the following side effects may be experienced when using Elizabeth Arden Prevage Night Anti-Aging Restorative Cream:
Skin irritation and allergic reactions due to several ingredients, including fragrances
Increased risk for hormonal imbalance due to parabens
Increased risk for reproductive health related diseases due to EDTA
Elizabeth Arden Prevage Anti-Aging Cream Customer Reviews:
Elizabeth Arden Prevage Anti-Aging Cream reviews read:
"The consistensy of the cream is great and it does not leave your skin greasy at all. Does not make you break out so it's very nice. My only reservation is that there is a strong perfume smell to it and to some it might be very nice (it smells like the perfume sunflowers) – for me, I'm really sensitive, so unfortunately, I'm not using it often and that's a disappointment because I actually like the cream, not the smell." — User Review on LovelySkin
"I am totally amazed what this has done for my menopausal skin! My pores are now non existent, dark sun spots from tanning are gone, dark circles gone, broken capilarries-gone! My skin has a luminosity I've never had. My skin has NEVER been better.

The products – while expensive, who cares? THIS WORKS! I'm 53 and using this religiously for the past few years and I will continue-I highly recommend the line. Elizabeth Arden products are in a class by themselves- I also wear foundation from EA. But if you can only afford one product? This is the one I would go for.

" — inspector1 on MakeupAlley
Final Verdict:
Elizabeth Arden Prevage Anti-Aging Cream introduces innovative technologies in overnight skin repair that are exclusively infused in Prevage. However, these innovations do come with a price and yet the evidence that it works remains limited.
As we age the composition, texture and appearance of our skin changes. Signs of skin aging include wrinkles, fine lines, loss of moisture, uneven tone, and dull, tired-looking skin. There are countless anti-wrinkle creams on the market promising to make skin look and feel younger. Many anti-wrinkle creams promise everything short of a facelift or to provide the much sought after "fountain of youth". In reality most are just moisturizers marketed as anti-aging products.
Below you'll find some of the most effective wrinkle serum/cream formulations on the market today, in our opinion.
Our Top Anti Aging Products