Eminence Wild Plum Eye Cream Review: What does it do?
By
Eminence Wild Plum Eye Cream
Eminence Wild Plum Eye Cream promises to blot out your dark circles, eye bags and wrinkles. Click to read detailed review onEminence Wild Plum Eye Creamhere.
Advertising Disclosure

?
Check your beauty stash and chances are you probably have more than two kinds each of eyebrow liner, eyeliner, mascara, and eye shadow. We haven't even started counting brushes that you use, the eye creams, eye serums and what not. It's an endless list. It reflects the importance of your eyes in making you feel beautiful and look young.
Product Description, Manufacturer's Information and Price Details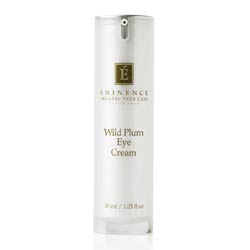 Well known as an effective all organic skincare line, can Éminence Organics bring you the most effective and yet safest way to blot out your dark circles, eye bags and wrinkles through its Wild Plum Eye Cream?
Éminence Organics promises to boost moisture levels on skin around your eyes with a host of naturally derived antioxidants, vitamins and skin-firming ingredients that make your eyes noticeably more radiant. Beyond mere aesthetics, the company also claims that Wild Plum Eye Cream will help soothe your capilliaries which become brittle and prone to breaking, causing fluid leaks that result to dark under eye pigmentents.
Éminence Wild Plum Eye Cream is available in stores and online in 30 ml bottles each sold for $70, but can go as much as half the price on eBay and Amazon.
$70 for 30 ml bottle, as cheap as $38 on Amazon
Ingredients
Éminence Wild Plum Eye Cream is formulated with the following key ingredients:
Wild Plum Juice, has natural anti-inflammatroy properties that calms irritated skin while also brightening dark spots
Biocomplex, a proprietary ingredient that gives your skin a boost of antioxidants and loads of Coenzyme Q10 which helps improve the appearance of sun-damaged skin
Green tea, contains antioxidants that protect your skin from damage caused by free radicals at the cellular level
Shea Butter, provides skin with deep moisturization over prolonged periods of time
Horse Chestnut, improves skin elasticity and firmness
Eminence Wild Plum Eye Cream's full ingredient list below:
Wild Prunud (Plum) Juice, Cetearyl Alcohol, Stearic Acid, Sodium Cetearyl Sulfate, Corn-derived Methyl Glucose Sesquistearate, Coco Caprylate, Glyceryl Palmitate, ButyrospermumParkii (Shea Butter), Zea Mays (Corn) Germ Oil, Vitis, Vinifera (Grape) Oil, Wild DiscoreaVillosa (YAm) Extract, Soy, Calendula Officinalis (Marigold) Extract Oil, SilybumMarianum (Lady's Thistle) Fruit, Camellia Sinensis (Green Tea) Leaf, Triticum Vulgare (Wheat) Protein, AesculusHippocastanum (Horse Chestnut) Extract, CentellaAsiatica (Gotu Kola), Potassium (Vitmain K), Euphrasia Officinalis (Eyebright), Vegetable Squalene, Ubiquinone (Coenzyme Q10), Tocopheryl Acetate (Vitamin E), Ascorbyl Palmitate (Vitamin C Ester), egetable Glycerin, OenotheraBiennis (Evening Primrose) Oil, Glycine Soya (Soybean) Oil, Salicylic Acid, Algin
Directions
Squeeze a drop on clean fingers and smooth a thin layer of the eminence eye cream around your eyes. Make it an excuse to give your eye area a soothing massage to encourage better fluid circulation.
Pros
This product is made without toxic ingredients.
Cons
There are no clinical studies presented to back up product effectiveness.
Conclusion
Should Éminence Wild Plum Eye Cream be the next anti-aging eye cream you must have and must buy for your beauty stash? You have the information — you decide.
The most common eye area issues are puffiness, dark circles, wrinkles and crow's feet, and loss of hydration. There are countless eye creams available on the market today, making it seem nearly impossible to find the "right one" that meets our specific under eye needs. It is imperative to find a product that has been formulated to address a variety of complex eye area problems.
Below you'll find some of the most effective eye cream formulations on the market today, in our opinion.
Our Top Eye Creams
Also Remember These Dermatologist Recommended Important Tips:
Age has nothing to do with the lines that appear on the corners of your eyes... it's a combination of heredity and careless abuse of the area.
Skin is skin... it all needs to be cared for in one way or another. For my younger readers, this means not pulling on the skin when removing eye makeup.
The eye area is prone to fine lines and wrinkles, so it is really important not over-work the area, squint, and stay away from smokey rooms. Your eyes won't like that either.
One of the best ways to protect this area of your face is to put on a pair of sunglasses every single time you go outside spring, summer, fall and winter.
There are very few oil glands in the eye area, so it can dry out very quickly, especially if you spend a great deal of time out of doors.
When you chose an eye cream, be sure to choose one that is especially formulated for this delicate skin. Don't use a day cream that could be full of ingredients that will irritate this area. Too rich a cream can cause as many problems as ignoring the area.