Essie's 2016 Bridal Collection – Expect the Unexpected
Finally, it's here! Essie's brand-new nail polish colors for 2016 brides are now available online! You can definitely wear thiscollection even if you're not tying the knot, but if you're chapel-bound, then this blissful collection is perfect for your whole wedding crew. It is a dazzling six shades of bridal perfection, they're eye candy!
We know you can't wait to add a dash of fab to your ring finger.So without further ado, here's a sneak peak of the pretty colors you would be excited to get your hands on when you see them.
Essie Between the Seats
Touted by Essie as the "seductively grey lilac", this nail polish color is an ideal shade for brides who love wearing a classic, ivory crème hue, with a touch of light lilac tint. The hint of candied lilac shows up in the nail than in the bottle with just two easy-breezy coats. It's subtle, but it's there – and it looks super elegant.
Essie Steal His Name
What a pretty, pretty shade of peach! It makes your nails look naturally pinkish peach, a healthy dose of color that works for all brides. It's not too edgy (and risky), so that you can feel unique and special without regretting your color choice 10 years later. It would usually take three coats to get the best results.
Essie Coming Together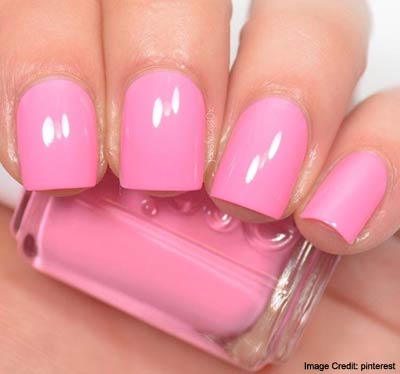 A sheer floral pink on your nails looks so feminine and delicious – like a cotton candy. You could channel your inner girl-girl with this mani. If your wedding dress style is clean, simple and has timeless lines with a dash of whimsy, then this color is the best choice.
Mrs Always Right
Sassy cranberry shade that comes in opaque coverage looks daring but lovely. It has dusty, autumn-ish warmth to it. It exudes a romantic vibe that's kind of great for a bridal shower or honeymoon.
You May Also Like – 10 Nail Art Ideas to Rock Your Summer
Essie Passport to Happiness
A fun-kissed mint green color that's unique to Essie. The pale tint of green witha stealth shimmer makes your nails trendy in a subtle way. This color works well with a satin, extra glossy finish. Yep, she's a beauty.
Essie Groom Service
You'll love the deep-satisfying, soft violet shade of this nail polish color. It can instantly give a chic, playful and cheerful vibe to your nails.
About Essie
Essie's 2016 Bridal Collection boasts a chip-resistant formula, long-lasting finish and a premium selection of colors that are perfect for your wedding day. Essie is one of America's most favorite and go-to nail polish since 1981.
The option is endless when you're choosing a nail polish for your big day. Essie's 2016 Bridal Collection narrows down the options for you – it's one of the best polish picks for your walk down the aisle! You're the bride and this collection could take off a little bit of decision-making and stress out of your system as they're all beautiful whichever color you choose.
Like this post? There's more. Get tons of beauty tips, tutorials, and news on the thebeautyinsiders Facebook & Twitter page. Like us on Facebook – we'll see you there!