Estee Lauder So Polished Exfoliating Scrub: Ingredients, Side Effects, Detailed Review & more
By
Advertising Disclosure

?
What is Estee Lauder So Polished Exfoliating Scrub?
The exfoliator being reviewed is So Polished Exfoliating Scrub. The manufacturer of So Polished Exfoliating Scrub is Estee Lauder.
The product's manufacturer claims that their product "Eases away dulling flakes, excess oil and impurities to expose a new radiance. Protects your natural moisture barrier and prepares skin to get the most out of your moisturizer. So Polished Exfoliating Scrub surrounds you with the soothing scent of a tropical breeze, with Hawaiian Pineapple, Coconut and Jasmine."
So Polished Exfoliating Scrub, is developed to be used by consumers with all skin types; oily, combination, normal and dry. The manufacturer suggests that the product be used at least once a week to see visible results. In addition to developing So Polished Exfoliating Scrub, Estee Lauder  also hosts a complete skincare line which includes the following products; Body Care, Cleansers, Toners, Eye Care, Makeup Removers, Masks, Exfoliators, Moisturizers, Problem Solvers, Re-Nutriv, Repair, Self Tan, Sensitive Skin, and Sun Protection. So Polished Exfoliating Scrub is sold in 3.4 ounce bottles. The product can be purchased from online retailers like, Nordstrom.com, Macys.com, and Dillards.com. All three online retailers sell So Polished Exfoliating Scrub for $22. The product can also be purchased directly from the manufacturers website. Purchases made directly from the manufacturer's website include 100% satisfaction guarantee. However the consumer is responsible for shipping and handling charges.
Estee Lauder So Polished Exfoliating Scrub – Does it really work?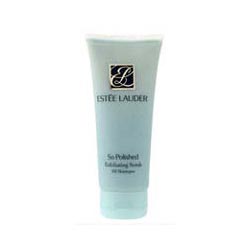 The Active ingredient in So Polished Exfoliating Scrub is volcanic ash. Volcanic ash has been used for centuries by Melanesians and Polynesians in the treatment of a wide variety of infections. Volcanic ash is used primarily for its anti-bacterial, anti-viral, anti-yeast and overall disinfectant properties. The ash is high in sulfur, an active Mineral ingredient which not only helps the body to resist bacteria but actually destroy it.
Sulfur exists in your hemoglobin and connective body tissue for a number of reasons, as a blood disinfectant, the stimulation of  bile secretion, promotion oxidation, and for the synthesis of Collagen-an important protein needed for the structural integrity of your skin. Sulfur slows down the aging process because of its ability to protect against the toxic effects of pollution and radiation. It is part of the chemical structure of the amino acids glutathione, taurine, cysteine, and methionine. Besides the benefits stated, volcanic ash particles can be finely crushed and used as a mild exfoliant, because it does not dissolve in water and makes for a fantastic, mild exfoliant. Volcanic ash is also used in foot and body scrubs because of the purification and cleaning properties it possesses.
So Polished Exfoliating Scrub is both hypo-allergenic and non-comedogenic. When using an exfoliator or peel, the use of sunscreen is highly recommended, as the skin becomes photosensitive.
Benefits of Estee Lauder So Polished Exfoliating Scrub
So Polished Exfoliating Scrub can be purchased online directly from Estee Lauder.
The products website was easy to navigate and engaging.
Disadvantages of Estee Lauder So Polished Exfoliating Scrub
So Polished Exfoliating Scrub is expensive.
The website neglects to inform potential consumers about the benefits of the active ingredients.
This product contains several ingredients that have the potential to cause your skin to become reactive and inflamed.
Final Verdict-Estee Lauder So Polished Exfoliating Scrub
Based on the information collected, So Polished Exfoliating Scrub by Estee Lauder, is interesting because of the use of volcanic ash in the formulation. The product is expensive when compared to similar exfoliants.
Many companies promise to have created the ideal facial skin exfoliator, but it is important to analyze each of these products in a nonbiased manner. An ideal facial exfoliator should be able to penetrate deep into layers of skin in order to cleanse these skin cells at the same time that it exfoliates them. Such an exfoliator must also effectively remove all dead skin cells, and the best products will even minimize the appearance of wrinkles and other fine lines. The overall effect of using a facial exfoliator should be noticeably brighter, cleaner skin. Below is are several top exfoliator products.
Below you'll find some of the most effective Exfoliators formulations on the market in our opinion:
Our Top 5 Exfoliators Products
**This is a subjective assessment based on the strength of the available information and our estimation of efficacy.
*Results may vary. The information contained in this website is provided for general informational purposes only. No medical claims are implied in this content, and the information herein is not intended be used for self diagnosis or self trealment of any condition.
Disclosure of Material Connection: Some of the links in the post above are "associate sales links." This means if you click on the link and purchase an item, we will receive a commission Regardless, we only recommend products or services which we use personally and/or believe will add value to our readers. We are disclosing this in accordance with the Federal Trade Commission's 16 CFR, Part 255: "Guides Concerning the Use of Endorsements and Testimonials."