Estee Lauder Unline Total Eyecare
By
Advertising Disclosure

?
Estee Lauder Unline Total Eyecare Overview
Unline Total Eyecare, by Estee Lauder, is a multi function gel cream that is a silky and lightweight formula perfect for smoothing out the look of fine, dry lines and helps to prevent future lines. 
Estee Lauder Unline Total Eyecare – Product Description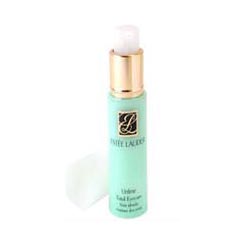 This all in one eye care formula claims to be able to smooth the look of lines even dry lines.  Green Tea and Vitamin C and Vitamin E and antioxidants help prevent future wrinkles.  This product is a lightweight, moisturizing formula that soothes away puffiness, and brightens the eye area.  It claims to keep the make up in place.  The formula contains natural antioxidants, like Rosemary Extract, Green Tea, Vitamin C and Vitamin E to help battle against free radical skin damaging oxidants.
Estee Lauder Unline Total Eyecare Advantage
The pump dispenses just the right amount for each eye, thus saving product.
This eye treatment is safe and fine for contact wears.
This product is Dermatologist tested, and Ophthalmologist tested.
There is a small list of ingredients that are used in this eye treatment and they are ones that can be recognized easily.
The teal colored pump is attractive, calming, and pretty to look at.
Estee Lauder Unline Total Eyecare – Drawbacks
This product may tend to feel on the greasy side and may make it harder for any make up application to stay put or not to smudge off easily.
To find any detailed information on this Estee Lauder product even on the official web site was disappointing.
This is another product from

Estee Lauder

that you have to decide if you really know enough about it to put out the $40.00.
There is no testimonials, reviews, before and afters on this product.
They do not say if there is animal testing done with this product.
It does not say if this could help with dark under eye circles.
It does not contain peptides or collagen.
There is no cutting edge ingredients, or scientific research put into this repeat product.
Estee Lauder does not even recognize their own product on the official web site.
Estee Lauder Unline Total Eyecare – The Bottomline
Estee Lauder Unline Total Eyecare is absolutely non existent on the web site even though they apparently formulated it.  The little bit of information on this eye product was extremely difficult to find. This company has so many different eye products, that this one called, Unline Total Eyecare, you would think would finally totally address all eye issues in one product.
This product is almost like they are marketing for anyone willing to try an eye product that claims to have an all in one agenda, an easy fix.  There is no data to back up any claim that what they say this will do for your eyes it will do.  They simply have too many eye products to choose from, rather than just one that does it all.  This could be that magic product, but they themselves do not verify any  information.
The most common eye area issues are puffiness, dark circles, wrinkles and crow's feet, and loss of hydration. There are countless eye creams available on the market today, making it seem nearly impossible to find the "right one" that meets our specific under eye needs. It is imperative to find a product that has been formulated to address a variety of complex eye area problems.
Below you'll find some of the most effective eye cream formulations on the market today, in our opinion.
Our Top Eye Creams
Also Remember These Dermatologist Recommended Important Tips:
Age has nothing to do with the lines that appear on the corners of your eyes... it's a combination of heredity and careless abuse of the area.
Skin is skin... it all needs to be cared for in one way or another. For my younger readers, this means not pulling on the skin when removing eye makeup.
The eye area is prone to fine lines and wrinkles, so it is really important not over-work the area, squint, and stay away from smokey rooms. Your eyes won't like that either.
One of the best ways to protect this area of your face is to put on a pair of sunglasses every single time you go outside spring, summer, fall and winter.
There are very few oil glands in the eye area, so it can dry out very quickly, especially if you spend a great deal of time out of doors.
When you chose an eye cream, be sure to choose one that is especially formulated for this delicate skin. Don't use a day cream that could be full of ingredients that will irritate this area. Too rich a cream can cause as many problems as ignoring the area.
**This is a subjective assessment based on the strength of the available information and our estimation of efficacy.
*Results may vary. The information contained in this website is provided for general informational purposes only. No medical claims are implied in this content, and the information herein is not intended be used for self diagnosis or self trealment of any condition.
Disclosure of Material Connection: Some of the links in the post above are "associate sales links." This means if you click on the link and purchase an item, we will receive a commission Regardless, we only recommend products or services which we use personally and/or believe will add value to our readers. We are disclosing this in accordance with the Federal Trade Commission's 16 CFR, Part 255: "Guides Concerning the Use of Endorsements and Testimonials."