Esthederm Cyclo System Youth Cream Review: Does It Work As Promised?
By
Esthederm Cyclo System Youth Cream
Esthederm Cyclo System Youth Cream Reviews says it enhances the youthfulness of your skin. Does Esthederm Cyclo System Youth Cream work on all skin types?
Advertising Disclosure

?
Esthederm Cyclo System Youth Cream Description
Esthederm Cyclo System Youth Cream, US $90 for 50 ml, is a face and neck cream specially formulated to enhance the youthfulness of your skin even as you begin to age.
More specifically, this product is committed to deliver the following benefits to your skin:
Provides Cyclanol, a proprietary complex that reactivates skin regenerating and rejuvenating functions in your skin that are necessary to restore your youthful skin
Protects your skin from harmful UVA rays
Compensates for the lost functions affected by the diminishing volume of estrogen available for repairs and restoration processes for your skin
Soothes and calms skin irritations to help clear skin, promote a healthier complexion, and prevent permanent damages to the skin matrix
Esthederm's Cyclo System is a product line dedicated to restore the firmness, elasticity and density characteristically lost in mature, aging skin.
Esthederm Cyclo System Youth Cream Ingredients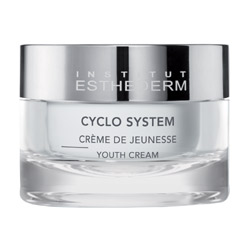 Centellia Asiatica: Made up of amino acids, fatty acids and antioxidants that deliver anti-inflammatory benefits for your skin, relieving it from irritations, calming it from itchiness, and providing relief from other signs of irritation to correct and prevent permanent skin damage
Oryzanol: Derived from rice bran oil, this ingredient adds sun protection to this formula
Directions
Use Esthederm Cyclo System Youth Cream as part of your morning and evening skin care routines. The manufacturer recommends to use this product with the Esthederm 21 Days Youth Concentrate for best results.
Esthederm Cyclo System Youth Cream Advantages
This product boosts your skin's moisture levels significantly to plump it and make it appear denser and firmer.
Provides sun protection that blocks UVA rays from making permanent damages to your skin.
Esthederm cyclo system youth cream reviews have indicated a handful of user feedbacks that attest to product effectiveness in restoring youthful skin
Esthederm Cyclo System Youth Cream Disadvantages
This product's sunscreen component and claim of sun protection is highly questionable given the lack of certification, and is supposed to provide UVA protection only but not UVB.
This product contains denatured alcohol high up on its ingredients list, a highly irritating ingredient that also leaves your skin permanently damaged with regular, long-term use.
This product contains benzyl salicylate which has been shown to have adverse effects on otherwise healthy endocrine function.
Esthederm cyclo system youth cream reviews are severely limited and do not provide a good reference when making a purchase or no purchase decision about this product and in finding out if it suits your skin needs well.
Conclusion
Esthederm Cyclo System Youth Cream has a different slant in its marketing, turning the product into the skin savior menopausal women need to turn back the youthfulness that dwindling estrogen levels have stolen from their once flawless skin. It's a good marketing strategy but, the manufacturer has failed to establish the science behind the formula and has done little effort to explain how this product works. With drying alcohol in the formula along with a host of irritating ingredients and toxic synthetics, this product's ability to deliver on its claims is highly questionable. Better look and compare with another.
Facial moisturizing products are in no short supply today, and this large selection might make the process of choosing the best moisturizer for your personal needs to seem a bit overwhelming. Fortunately, we've taken the time to research each of the top facial moisturizers on how they rate in several different key categories. More specifically, we believe that every quality moisturizer should provide the basic benefit of improving overall facial skin appearance, including both skin tone and skin texture. Additionally, a quality moisturizer should contain compounds that are capable of binding to collagen fibres in order to provide the most long term results. Finally, facial moisturizers should ideally be able to deeply cleanse skin at the same time that they moisturize it. Below is a summary of our findings regarding the top facial moisturizers and these key considerations.
Below you'll find some of the most effective Moisturizers formulations on the market in our opinion:
Our Top Moisturizers Products