Estrofy Reviews – Should You Trust This Product?
Advertising Disclosure

?
What is Estrofy?
Estrofy is a dietary supplement that has been designed to help support menopausal women maintain ideal energy levels. It helps balance out your hormones to improve your experience of multiple menopausal symptoms.
Manufacturer, VH Nutrition Company, claims that this supplement can help restore normal estrogen levels to help enhance your mood and energy. This product is made with 100 percent all-natural ingredients.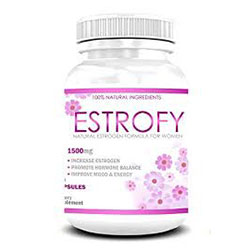 Estrofy – Does it Really Work?
Estrofy is composed of ingredients that have been traditionally used by indigenous civilizations in different parts of the world for the relief of pains and discomforts associated with the female reproductive organs.
Some studies have demonstrated the efficacy of these ingredients for improving the frequency and intensity of menopausal symptoms, such as night sweats, hot flushes, mood swings, and lack of concentration.
However, there are no user reviews to help guide your purchase decision for this product.
What Are The Ingredients In Estrofy
Estrofy Ingredients are:
Black Cohosh: It contains salicylin, a natural analgesic that helps relieve pains and aches associated with menopause, such as abdominal pains. Its mechanism of action involves blocking pain receptors. It also has a hormone control and regulatory function.
Shatavari: This ingredient helps enhance brain health and its cognitive functions, that includes improving focus and concentration.
Chaste Tree Berry: It enhances your sex drive and helps intensify the pleasurable sensations of sex as it supports proper regulation and production of estrogen.
Dong Quai: It contains phytoestrogens that support the restoration of estrogen back to normal levels which, in turn, lessens the intensity and frequency of experiencing multiple menopausal symptoms. It also helps regulate blood pressure levels which puts you in a better mood.
Ginger Root: Its strong anti-inflammatory properties combined with its antioxidant content helps relieve pains and inconveniences that you experience because of menopause, that includes muscle pain and migraines.
Epimedium: It supports leveling off of your natural estrogen and estradiol levels to support better experience of menopausal symptoms.
How to Use Estrofy
Take 2 up to 4 capsules of this product, in the morning. It is best to supplement at about the same time everyday to help condition your body to receive this supplement effectively.
Benefits of Estrofy
This product is made only with an all-natural ingredients list.
Reviews indicate that this supplement may improve the inconveniences associated with menopausal symptoms.
One bottle is sufficient to last you for a month, that is, at twice daily supplementation.
There are no adverse side effects reported about this product.
This product is conveniently available for online purchase
Disadvantages of Estrofy
This product appears to have a limited reach and distribution network
Reviews indicate that this supplement will affect women in very different ways, that is, some women will respond well to this supplement's formulation while some others will not.
User reviews are severely limited and fail to provide useful guidance or reference to determine how effects vary.
This product's key active ingredients boast of mostly anecdotal accounts of efficiency with limited clinical data to back it up.
It appears that the manufacturer does not maintain either an official company website or, a product website to ascertain accountability for any result arising fro product intake.
You Can Also Read – Angeliq Menopause Reviews
Does Estrofy Have Any Side-Effects?
Side effects of Estrofy are not known. However, it may aggravate an existing medical condition or, may react with other supplements or medications that you are taking. In which case, it is always best to schedule an appointment with your doctor before you start supplementing with Estrofy.
Is it worth buying Estrofy?
Reviews by product reviewers are modest however, user reviews are lacking leaving no account of firsthand information about this product and how it performs.
At $30, this supplement is inexpensive. Still, its formulation is also not unique and can be very easily derived from other health nutrients with a similar nutrition profile.
When taking supplements such as Estrofy, always keep in mind that results will vary across different users.
Frequently Asked Questions About Estrofy:
1. Where to buy Estrofy?
Estrofy may be bought online via major online reseller sites.
It is not clear whether or not this product is available in drugstores.
2. Who Should Use Estrofy?
This supplement is intended for the use of women who are undergoing various phases of menopause, particularly when menopausal symptoms are experienced at pronounced degrees.
3.How long does one bottle of Estrofy last?
One bottle can last for up to a month with an intake of 2 capsules daily.
Since this supplement may be taken for up to 4 capsules daily, as per manufacturer's instructions, it may take less than a month to finish one bottle, that depends on your preferred dosage.
Fortunately, natural therapies for menopausal symptoms such as weight gain, hot flashes, night sweats, decreased libido, and mood swings are available. Since many women experience weight gain during menopause, many natural menopause supplements contain herbs and botanicals that support a healthy metabolism. Menopause supplements should be evaluated on proven ingredients, ability to reduce hot flashes and night sweats, ability to provide hormonal balance and boost libido and its overall value.
Below you'll find some of the most effective menopause supplements on the market today, in our opinion.
Our Top Menopause Relief Choices
**This is a subjective assessment based on the strength of the available information and our estimation of efficacy.
*Results may vary. The information contained in this website is provided for general informational purposes only. No medical claims are implied in this content, and the information herein is not intended be used for self diagnosis or self trealment of any condition.
Disclosure of Material Connection: Some of the links in the post above are "associate sales links." This means if you click on the link and purchase an item, we will receive a commission Regardless, we only recommend products or services which we use personally and/or believe will add value to our readers. We are disclosing this in accordance with the Federal Trade Commission's 16 CFR, Part 255: "Guides Concerning the Use of Endorsements and Testimonials."