Estroven Plus Energy Menopause Supplement, 40ct Review: Is It Good?
Estroven Plus Energy Menopause Supplement, 40ct Description
Estroven Plus Energy Menopause Supplement, US $22.49 for 40 caplets, is a dietary supplement is specially formulated to relieve multiple symptoms associated with menopause.
More specifically, this product has been formulated to deliver the following benefits:
Supply your body with 10 essential vitamins and minerals to restore healthy nutrient levels that support normalization of vital organ functions to help relieve menopausal symptoms
Restores your energy levels to relieve you from fatigue
Lessen the frequency of episodes of hot flashes and night sweats to promote better quality of sleep
i-Health, Inc. is a consumer packaged goods company committed to delivering supplements and other over-the-counter products that promote the health and well-being of its clients. It has formulated several supplements intended to ease the many menopausal symptoms of women.
Estroven Plus Energy Menopause Supplement, 40ct Ingredients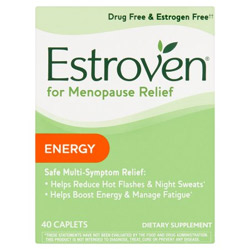 Green Tea and Yerba Mate: Help boost your energy levels to lessen sleepiness and lack of focus, and relieve feelings of fatigue to promote your productivity and even give you more time for relaxation and leisure
Soy Isoflavones: Help normalize hormone and other biochemicals in your brain and body that drive your menopausal symptoms to minimize sharp spikes and drops which, in turn, minimizes the frequency and intensity of your symptoms
Black Cohosh: Traditionally used for relieving the adverse effects and behaviors associated with menopause, this ingredient has been shown to help in normalizing estrogen levels
Caffeine: Supports in stimulating brain activity, boosting energy levels, and enhancing blood flow
Directions
Take 1 caplet of Estroven Plus Energy Menopause Supplement once daily after a meal, ideally after breakfast. Supplement must be taken for a minimum of 60 days for positive effects to become evident.
Estroven Plus Energy Menopause Supplement, 40ct Advantages
The manufacturer has guaranteed that this product has been tested for quality & purity in the USA.
Estroven Energy is not formulated with synthetic estrogen and has no preservatives, yeast, wheat, gluten or lactose.
Based on the 2015 Pharmacy Times OTC Survey, Estroven is the Number 1 brand recommended by pharmacists.
Estroven menopause supplement reviews reveal that it took women at least 60 days before the positive effects of this supplement was felt and became obvious.

Estroven Plus Energy Menopause Supplement, 40ct Disadvantages

It takes up to 60 days of regular supplement intake for this product to demonstrate positive effects to your menopausal symptoms
This product is formulated with soy which consists of plant-based estrogen that has been associated with the disruption of endocrine functions, infertility, breast cancer and thyroid cancer.
Estroven menopause supplement reviews reveal that some women do not respond well to this product and continued to feel their menopause symptoms with the same level of intensity and frequency even after taking this product regularly for 60 days.
Conclusion
Estroven Plus Energy Menopause Supplement can be a helpful ally in your attempt to survive menopause with grace without getting in the way of your productivity. The soy content of this supplement, however, is a major drawback and, if you are actively avoiding soy for whatever reason, this product does not suit you.