Exuviance Age Reverse Night Lift Review – Should You Trust This Product?
Advertising Disclosure

?
What Is Exuviance Age Reverse Night Lift?
As per the manufacturer, Exuviance Age Reverse Night Lift, US $77 for a 1.75 oz. opaque tube, is a night treatment solution that commits to cancel out the day-to-day skin damage to prevent these from piling up that can eventually lead to the formation of wrinkles and other visible signs of skin aging.
This product is brought to you by Neostrata. The skin care line, including its age defying formulations, is centered on utilizing the skin benefits that can be derived from the application of alpha and poly hydroxy acids. These components improve the efficiency and quality of regenerated skin as well as speed up the rates of production of skin precursors and allows for more frequent turnovers so you can see younger skin restored much sooner. However there are many other well known brands in the market with similar effects and ingredients and they come in a affordable range.
Exuviance Age Reverse Night Lift — Does It Really Work?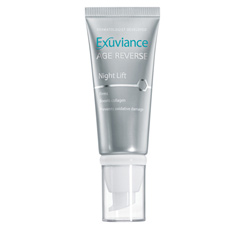 Based on claims made by the manufacturer, this product has been formulated to deliver for you the following benefits:
Enhance your skin's natural process of repair and rejuvenation that happens while you sleep.
Support faster production rates for collagen fibers while simultaneously protecting each fiber from damage and from prematurely breaking down.
Promote improved skin elasticity that gives your skin a tighter, better contoured appearance.
Soften, smoothen out, and fade the appearance of both shallow and deep lines and creases.
Improve your skin tone to give you a more youthful natural radiance that makes your skin glow with health.
What Are The Ingredients In Exuviance Age Reverse Night Lift?
Peptides: Improve the delivery of cellular level mechanisms that facilitate skin repair and regeneration so that your skin experiences faster turnovers and make renewal happen sooner.
Vitamin A: It has anti-aging properties that help make younger skin happen sooner by speeding up the elimination of your skin's damaged layer and supporting its replacement by a newer, lesser damaged layer that keeps improving with every turnover.
Vitamin E: Leaves skin with a deeply nourishing sensation, it also provides antioxidant protection and aids in rebuilding your skin's natural protective barrier. Although it may lead to skin rash.
Vitamin C: Boosts the cellular energy, it speeds up all mechanisms necessary to renew and restore your skin's youthful health and appearance.
Glycolic Acid: An alpha hydroxy acid, this component stimulates your skin to produce higher amounts of collagen at faster rates by facilitating speedier skin exfoliation. However it may cause burning sensation to sensitive skin.
Gluconolactone: A poly hydroxy acid that supports faster skin renewal.
How To Apply Exuviance Age Reverse Night Lift
For best results the manufacturer suggest:
Exuviance Age Reverse Night Lift must be generously applied to your face and, if desired, on your neck and chest areas as well.
Always wear sunscreen in the morning to support skin improvements and counter the photosensitizing effects of some ingredients infused in this product, including Vitamin A and glycolic acid.
Benefits Of Exuviance Age Reverse Night Lift
This product reduces fine lines
This product is safe for use on sensitive skin.
This product helps to get a plumper and fuller skin, although many user reviews say it isn't very effective.
Disadvantages Of Exuviance Age Reverse Night Lift
This product is expensive.
Exuviance Age Reverse Night Lift reviews indicate that users are satisfied with the smoothening effect but not the firming claim.
This product is not effective on combination skin.
The combination of active ingredients is weak.
Does Exuviance Age Reverse Night Lift Have Any Side Effects?
Based on the ingredients and reviews, the following side effects may be experienced when using Exuviance Age Reverse Night Lift:
Skin irritation and allergic reactions due to several ingredients, including artificial dyes, butylene glycol, glycolic acid and Vitamin A.
Increased risk for neurotoxicity due to phenoxyethanol
Final Verdict: Exuviance Age Reverse Night Lift
Exuviance Age Reverse Night Lift could become the go-to rejuvenating solution for some. However, it is not for everyone. This is loaded with potentially skin irritating ingredients and suitability of use will greatly depend on your skin's tolerance to its formula.
Below you'll find some of the most effective Neck Creams formulations on the market in our opinion:
Our Top Night Creams
**This is a subjective assessment based on the strength of the available information and our estimation of efficacy.
*Results may vary. The information contained in this website is provided for general informational purposes only. No medical claims are implied in this content, and the information herein is not intended be used for self diagnosis or self trealment of any condition.
Disclosure of Material Connection: Some of the links in the post above are "associate sales links." This means if you click on the link and purchase an item, we will receive a commission Regardless, we only recommend products or services which we use personally and/or believe will add value to our readers. We are disclosing this in accordance with the Federal Trade Commission's 16 CFR, Part 255: "Guides Concerning the Use of Endorsements and Testimonials."