Eye Magic Instant Eye Lift Review: Ingredients, Side Effects, Detailed Review & more
By
Eye Magic Instant Eye Lift
Eye Magic instant eye lift: Does this really work? anti-aging product really work? Is this eye cream safe & effective? Check customer reviews, benefits, side effects & more
Advertising Disclosure

?
What is Eye Magic Instant Eye Lift?
Eye Magic Instant Eye Lift is an anti-aging product with a novel form of approach. Instead of applying a cream to your skin or taking a capsule to provide you with nourishment, this product uses a transparent point of adhesive material to gently support the upper area around your eyelids and keep it held up, changing your appearance for the better in a way that doesn't involve any chemicals at all. A package costs $29.99 at a major online retailer, though you may be able to find better deals in some other areas. We are not sure how many applications one package is good for, but it is also not something you need to use every day.
What are the ingredients in Eye Magic Instant Eye Lift ?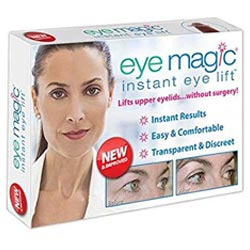 Eye Magic Instant Eye Lift does not contain ingredients. It is not something that is intended to be consumed or absorbed into your skin as a source of nutritional supplementation, whether in your stomach or to your skin directly. We could not readily discover what the adhesive gel and transparent strips were made from, although they are asserted to be medical grade and hypoallergenic.
How to apply Eye Magic Instant Eye Lift
Apply a small amount of the "eye lift gel" to the transparent strip and then place in the crease of the eye. In most light this will be completely invisible.
Benefits of Eye Magic Instant Eye Lift
Nothing to swallow or absorb into the skin
Cruelty-free and vegan
Price is reasonable for an occasional-use item
No reported side effects
Suitable for all skin types
Disadvantages of Eye Magic Instant Eye Lift
It is not clear what the adhesive gel for the eye strips is made from; while it isn't meant to be taken internally or absorbed, some users may be sensitive.
The product may not work perfectly in all situations, or be visible.
It isn't disclosed what, exactly, the strips are made out of.
The price may be too high if you intend to use it frequently.
Final Verdict- Eye Magic Instant Eye Lift
Eye Magic Instant Eye Lift is an anti-aging method with an interesting approach to addressing the poor appearance that may sometimes come as we age. By affixing this small piece of medical-grade material to your eyes, you can change how your eyes appear – it's the same kind of trick used in theatrical makeup, although, of course, much more subtle. This can be a great help, but it does have a major flaw: you have to be wearing it for it to do any good, and it will do nothing for other signs of aging or skin exposure. You may want to pick this up, yes, but you should shop around for other anti-aging supplements that can help you get a healthier appearance even without its help.
The most common eye area issues are puffiness, dark circles, wrinkles and crow's feet, and loss of hydration. There are countless eye creams available on the market today, making it seem nearly impossible to find the "right one" that meets our specific under eye needs. It is imperative to find a product that has been formulated to address a variety of complex eye area problems.
Below you'll find some of the most effective eye cream formulations on the market today, in our opinion.
Our Top Eye Creams
Also Remember These Dermatologist Recommended Important Tips:
Age has nothing to do with the lines that appear on the corners of your eyes... it's a combination of heredity and careless abuse of the area.
Skin is skin... it all needs to be cared for in one way or another. For my younger readers, this means not pulling on the skin when removing eye makeup.
The eye area is prone to fine lines and wrinkles, so it is really important not over-work the area, squint, and stay away from smokey rooms. Your eyes won't like that either.
One of the best ways to protect this area of your face is to put on a pair of sunglasses every single time you go outside spring, summer, fall and winter.
There are very few oil glands in the eye area, so it can dry out very quickly, especially if you spend a great deal of time out of doors.
When you chose an eye cream, be sure to choose one that is especially formulated for this delicate skin. Don't use a day cream that could be full of ingredients that will irritate this area. Too rich a cream can cause as many problems as ignoring the area.