Eyelash Enhancers vs. Eyelash Extensions, Which is better?
By Sharon Collins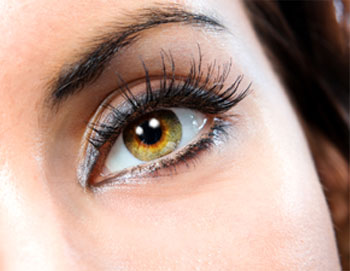 Eyes are the windows to the soul. People are intuitively drawn towards gazing at the eyes. In this case, various forms of eyelash enhancers are created to make the eyes more attractive. These include make-ups and eyelash enhancers. On the other side, a more modern way is through eyelash extensions. Eyelash enhancers vs. eyelash extensions, which is better?
Eyelash Enhancers
There are several types of eyelash enhancers, each have different results, cost and methods of usage.
Fake lashes are the most common way of enhancement. It is very effective and simple to apply. However, it is essential that you use a high quality product that perfectly fits you. As a starter, look for the most natural looking eye lashes possible to ensure best results. A special solvent aids you in removing these fake lashes, so be sure to remove them before you go to bed to avoid red eyes in the morning.
Eyelash conditioners add nutrients into your lashes to make them healthier and shinier. This can be pretty effective, but not as striking and obvious compared to extensions.
Eyelash Growth Products are supplements that contain essential nutrients and vitamins that may help in eyelash growth. Consult with an expert for prescriptions and advices.
Make ups are good enhancers too. The most common is the eyelash mascara. Be sure to look for a high quality product to ensure best results.
Eyelash Extensions
Lash Extensions are perfect for people who have thin lashes. Its procedure involves the implanting of longer lashes to improve the appearance of your eyes.
Types of Extensions
There are three existing types of eyelash extensions – synthetic, silk and mink. Synthetic extensions are the most affordable type and mink extensions are the costly type. These three kinds of extensions vary in color and length, depending on your choice.
The Procedure
Implanting eyelash extensions are complicated and can last a couple of hours. However, the whole procedure is entirely painless. You must seek a licensed esthetician to do the procedure. Your natural eye lashes will be taken out, then the new set of longer and fuller lashes will be glued using cyanoacrylate adhesive.
After the procedure is done, let the adhesive dry for at least one day. After that you can return to your normal everyday life with a twist. Proper maintenance must be observed to avoid the wearing of your lashes.
Which is better?
Before applying any product or undergoing procedures, let yourself learn and understand the basics and the risks accompanied by these enhancements and extensions. Read reviews online, ask experts and choose the method that perfectly suits you. Whether it is eyelash enhancement or eyelash extension, and with proper application, results guarantee that you will have more attractive and tantalizing eyes.
There are quite a few eyelash enhancing products on the market today, many of which appear to be capable of providing a few key benefits. Specifically, in addition to providing improvements in eyelash length, volume, and texture, an eyelash enhancer should also contain only quality ingredients. Furthermore, these ingredients must be able to nourish lashes so that they stay well conditioned and strengthened against premature breakage. Because of the importance of these characteristics of an ideal eyelash enhancer, along with the large number of eyelash products sold today, we've listed several of the top eyelash enhancers below.
Top Eylash Enhancing Products
During our research, the skin care specialists we consulted provided useful tips that contribute to achieving and maintaining beautiful, healthy eyelashes, including the following:
Be certain to consistently apply the product(s) you choose in accordance with its directions for use;
Pay special attention to removing any makeup that you have applied both mascara as well as eye shadow prior to bedtime;
Eating a healthy diet that contains milk and fish can help strenghten eyelashes;
Drink at least eight glasses of water a day to stay well hydrated;
Avoid excessive intake of caffeinated and alcoholic beverages, as they may contribute to dehydration and exacerbate the appearance of fine lines and wrinkles; and
Be sure to get adequate rest every day
**This is a subjective assessment based on the strength of the available information and our estimation of efficacy.
*Results may vary. The information contained in this website is provided for general informational purposes only. No medical claims are implied in this content, and the information herein is not intended be used for self diagnosis or self treatment of any condition.
Disclosure of Material Connection: Some of the links in the post above are "associate sales links." This means if you click on the link and purchase an item, we will receive a commission. Regardless, we only recommend products or services which we use personally and/or believe will add value to our readers. We are disclosing this in accordance with the Federal Trade Commission's 16 CFR, Part 255: "Guides Concerning the Use of Endorsements and Testimonials."