Eyelastic: Does Eyelastic Work?
By
Advertising Disclosure

?
Eyelastic Overview
Eyelastic is a lifting and firming gel that promises to reduce dark circles and puffiness around the eye area, as well as firm and tone loose skin. The gel is a daily-use formula that can also be used in conjunction with Skinlastic, their daily skin moisturiser. Unfortunately, this is pretty much all the official site tells us, as there are no details regarding even one single principal active ingredient, or what type of mechanism around which the formula is based (botanical extracts, protein-based etc).
The gel is manufactured by Adrien Arpel Salon, but there is no address listed for her "salon"; the company can only be reached by telephone (toll-free) or email, so there's no indication as to where this salon is actually located (a Google search reveals she's "a part-time Palm Beach resident", but originates from New Jersey and is a Home Shopping Network TV personality).
The website's layout is simple and catalog-like, listing only the basic functions of the gel. The company offer a range of skincare items from cleansers, fragrances and makeup accessories, the latter of which are extremely highly priced (an eyeshadow brush costs $36) with no justification as to why.
Eyelastic – Product Description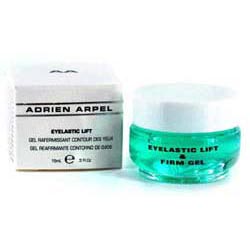 The gel is for all skin types, and can be used daily along with the similar Skinlastic (for the face). The company's promise is that the gel will instantly firm and tone loose, saggy skin around the eye area, as well as target dark circles and puffiness, but there is neither an ingredients list nor any information on what the formula's main or active ingredients are. There's also no information on clinical trials, so it's difficult to know exactly how effective the gel is other than being "instant", and whether there's any lasting effect over time or simply a daily, superficially-used gel.
With this in mind, the price of $42.50 for a 0.5oz jar is on the high side, and there is no information regarding any free trial or money-back guarantee. In addition, the shipping and return policies are nowhere to be found.
Eyelastic Advantage
Instantly moisturises
Non-greasy gel formula
Eyelastic – Drawbacks
No information on any ingredient, or scientific facts on how the gel works
No mailing address
High price; no trial or money-back guarantee
No independent reviews available online
Eyelastic – The Bottomline
A separate website detailed Adrien Arpel's history in the skincare industry, and mentioned that her products were available through department stores such as Macys and Harrods of London, as well as netting her TV spots on Oprah, yet most of this external hype appears to have arisen out of nowhere as there is no information available to attempt to set out this product from the competition. Gel formulas are a refreshing alternative in skincare to those with oily or combination skin, but Adrien Arpel's site has not provided facts as to how this gel works, and with a complete lack of online buzz/reviews, testimonials or even a free trial/money-back guarantee, the $42.50 price tag is difficult to justify.
The most common eye area issues are puffiness, dark circles, wrinkles and crow's feet, and loss of hydration. There are countless eye creams available on the market today, making it seem nearly impossible to find the "right one" that meets our specific under eye needs. It is imperative to find a product that has been formulated to address a variety of complex eye area problems.
Below you'll find some of the most effective eye cream formulations on the market today, in our opinion.
Our Top Eye Creams
Also Remember These Dermatologist Recommended Important Tips:
Age has nothing to do with the lines that appear on the corners of your eyes... it's a combination of heredity and careless abuse of the area.
Skin is skin... it all needs to be cared for in one way or another. For my younger readers, this means not pulling on the skin when removing eye makeup.
The eye area is prone to fine lines and wrinkles, so it is really important not over-work the area, squint, and stay away from smokey rooms. Your eyes won't like that either.
One of the best ways to protect this area of your face is to put on a pair of sunglasses every single time you go outside spring, summer, fall and winter.
There are very few oil glands in the eye area, so it can dry out very quickly, especially if you spend a great deal of time out of doors.
When you chose an eye cream, be sure to choose one that is especially formulated for this delicate skin. Don't use a day cream that could be full of ingredients that will irritate this area. Too rich a cream can cause as many problems as ignoring the area.
**This is a subjective assessment based on the strength of the available information and our estimation of efficacy.
*Results may vary. The information contained in this website is provided for general informational purposes only. No medical claims are implied in this content, and the information herein is not intended be used for self diagnosis or self trealment of any condition.
Disclosure of Material Connection: Some of the links in the post above are "associate sales links." This means if you click on the link and purchase an item, we will receive a commission Regardless, we only recommend products or services which we use personally and/or believe will add value to our readers. We are disclosing this in accordance with the Federal Trade Commission's 16 CFR, Part 255: "Guides Concerning the Use of Endorsements and Testimonials."