Eyliplex-2: Does Eyliplex-2 Work?
By
Eyliplex-2: Does Eyliplex-2 Work?
An exclusive review of Eyliplex-2 Product, Know more about Eyliplex-2 Product, its pros & cons on the beauty insiders.
Advertising Disclosure

?
Eyliplex-2 Overview
Eyliplex-2 was created by GS Labs and is distributed by Good Skin. Good Skin provides targeted treatments for skin problems and specialized care for such problems as acne, dull and aging skin, red/irritated skin and severely dry skin. Eyliplex-2 is an "eye lift circle reducer" cream that is sold as a duo: one product for day and another product for nighttime use. This product, along with the rest of the Good Skin line, appears to be sold exclusively at Kohl's department store for $39.50.
Eyliplex-2 – Product Description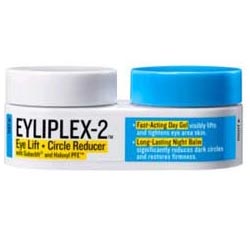 Eyliplex-2 claims to lift the skin around the eye and reduce dark circles under eyes. In order to provide support 24 hours a day, the product comes in two parts. One part is used during the day to tighten and brighten the eye area, and the other is used at night, mainly to reduce dark circles. The unique product packaging resembles a contact lens storage case with the two jars of cream attached to each other.
The Eyliplex-2 day cream specifically contains a fast-acting gel with Suberlift® to lift and tighten the area around the eyes and the Rho-Cite™ complex of minerals and antioxidants. The night product is a long-lasting balm with Haloxyl PFE™ to reduce dark circles and restore firmness and Mala-Plump™ to increase the eyes' natural collagen. While these ingredients might sound scientific and impressive, there is no information on what these complexes specifically contain.
According to the distributor's marketing, Eyliplex-2 has undergone some level of testing and has provided some anecdotal as well as clinical evidence that the product works. Immediately, 64% of the participants reported "younger-looking eyes." After four weeks, there was a 20% reduction of dark circles, and after eight weeks there was a 56% increase of lifting around the eyes. It is not stated how much lifting occurs after four weeks or how much the dark circles would be reduced after eight weeks.
Eyliplex-2 Advantage
If you want a separate day and night cream, you only have to buy one product.
Easily found/purchased via the popular retail outlet, Kohl's.
For $39.50, you essentially buy two products, making each less than $20.
Eyliplex-2 – Drawbacks
Eyliplex-2 does not disclose any specifics about its trademarked ingredients other than the claimed results.
No complete ingredient listing is provided.
Three other products are displayed as working well with Eyliplex-2, though no description is given how or why which smacks of shameless product bundling.
Eyliplex-2 – The Bottom line
While Eyliplex-2 is a good value for getting two products, there are other products on the market which boast higher, faster results than a mere 20% reduction of dark circles after four weeks of use. Since there is no detailed information on the clinical studies or links provided for consumers to access this information, it is questionable whether these studies were conducted by the makers themselves or were conducted by a reputable independent tester.
While it is convenient to go to one's local Kohl's department store to purchase the product, some caution is in line. Kohl's is a reputable chain, but it is known as a discount store which sells a variety of items, of which skincare is only a small part. The fact that Eyliplex-2 is sold exclusively through Kohl's makes one question why it is not sold exclusively at a more upscale store or sold via several retailers. Was the product formulated with Kohl's distribution in mind or did it fail via a different route of distribution?
Purchasing an eye cream is a fairly committed decision, since each container of these products tends to last for a fairly substantial period of time. Therefore, eye creams must be evaluated on their ability to deliver a number of desired results. For example, in addition to being affordable, an ideal eye cream must be able to reduce the depth, length, and surface area of wrinkles, crow's feet, and other fine lines. At the same time, an eye cream should also offer relief from puffiness and dark under-eye circles, helping individuals appear refreshed and well rested on a daily basis. Finally, an eye cream should also contain quality ingredients that provide much needed nourishment in the form of hydration to skin cells; such hydration can help delay the onset of wrinkles in the first place. Below, we've evaluated the ability of several of the top eye cream products to deliver these important benefits.
Top Eye Creams
Also Remember These Dermatologist Recommended Important Tips:
Age has nothing to do with the lines that appear on the corners of your eyes... it's a combination of heredity and careless abuse of the area.
Skin is skin... it all needs to be cared for in one way or another. For my younger readers, this means not pulling on the skin when removing eye makeup.
The eye area is prone to fine lines and wrinkles, so it is really important not over-work the area, squint, and stay away from smokey rooms. Your eyes won't like that either.
One of the best ways to protect this area of your face is to put on a pair of sunglasses every single time you go outside spring, summer, fall and winter.
There are very few oil glands in the eye area, so it can dry out very quickly, especially if you spend a great deal of time out of doors.
When you chose an eye cream, be sure to choose one that is especially formulated for this delicate skin. Don't use a day cream that could be full of ingredients that will irritate this area. Too rich a cream can cause as many problems as ignoring the area.