Then and Now: How These 7 Singers Have Transformed Over the Past Years
All eyes on the most famous singers of the past and present generations! So, you believe you've been following your favorite celeb singers closely? See if you can recognize them when they were just getting started on the global music scene:
1. Taylor Swift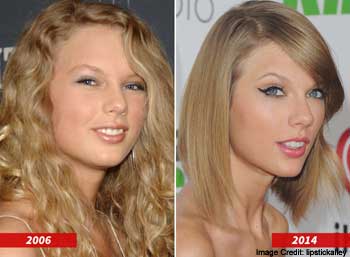 She was the epitome of a blonde, country beauty with her fair skin, tall and slender body and irrisistible curls when she first shot her first music video, "Tim McGraw". From there, she became the first country singer to fuse country and pop and actually brought the genre to mainstream. You know how her looks have been continuously evolving since then.
2. Ariana Grande: Broadway star turned Nickelodeon actress, Ariana was all sweet and innocent in a pink dress in her first-ever music video, "Put Your Hearts Up". She has quickly transitioned to cat's eye and major sex kitten complete with the ear headbands since then.
3. Miley Cyrus
Fresh from her Disney's "Hannah Montana" series, Miley literally has music running her in veins, being born to celebrity singer, Billy Ray Cyrus. Her first music video was for the song, "Start All Over". Although she has remained all-American to this day, Miley has evolved on and off screen. Fans have seen her tweetums, punk and twerking side with a singing career spanning over a decade now.
4. Demi Lovato: Another one rising from Disney's "Camp Rock", Demi's first studio album, "Don't Forget" was released in 2008, with the Jonas brothers as co-producers. The natural beauty has since become fiercer, battling her way through fame and surviving the many challenges in her personal life.
Read Also: Shakira's Beauty Secrets: What Keeps Shakira Still So Young Even at 39
5. Selena Gomez
Another star who also rose in fame from Disney, this time from the "Wizards of Waverley Place", Selena has already gained a big name in Hollywood before she started singing with her band, "The Scene". Their first music video was for "Kiss and Tell". Selena was already a Latina beauty in leather pants, tank top and knee high boots. Then, she crossed over to more mature roles, Justin Bieber happened and gone, and she's beautiful more than ever.
6. Katy Perry: The artist began her singing career as a gospel music singer under the name, Kate Hudson in 2001. Then, the successful release of "I Kissed a Girl" followed and Katy Perry was reborn. Just as her music evolved, so too did her appearance changed from typical to extraordinaire.
You May Also Like: Party Perfect Night Look Inspired by Kylie Jenner and Gigi Hadid
7. Rihanna
This Barbadian singer's first music video was for "Pon de Replay" where she first appeared on cam with long-time love interest, Drake. Years since, and after disastrous relationships, including the one she shared with Chris Brown, the two are dating again.
Conclusion
These stars know that evolution is essential to make a name in Hollywood and keep it. Bet you knew that!
Like this post? There's more. Get tons of beauty tips, tutorials, and news on the thebeautyinsiders Facebook & Twitter page. Like us on Facebook – we'll see you there!