Style Statement: 7 Epic Fashion Lessons We Learned From Fifth Harmony
Fifth Harmony, an all-girl, all-American vocal group that first captured public attention competing in The X Factor USA edition, have come a long way from the wannabes they were in 2012 to the superstars they have quickly become almost overnight. Their success is marked by milestones in their music and solidified by the fashion icons they have grown to be.
Here are 7 things the girls have educated us about fashion and styling:
1. White is Instantly Luxurious and Classy
The girls wore tailored suits that made the girl group rock expensive looking and top rated fashion, just as A-class as the way they sound. Dinah Jane Hansen had more than just a plunging, shoulder hugging suit to boast, she had a new bob to showoff too. The haircut clearly made the look come together, and was far from her usual messy, long 'do.
2. White Can be Chic and Posh: On the March 2016 issue of "Seventeen", the girls wore casual white ensembles in teeny, trendy manner that complemented their sunny, casual smiles. The best dresses were worn by Camila Cabello and Lauren Jauregui. Camila wore white, flared pants with ribbed, cropped top with glittery clogs. Lauren wore an off-the-shoulder dress with white pumps.
3. Black Makes for a Big Winner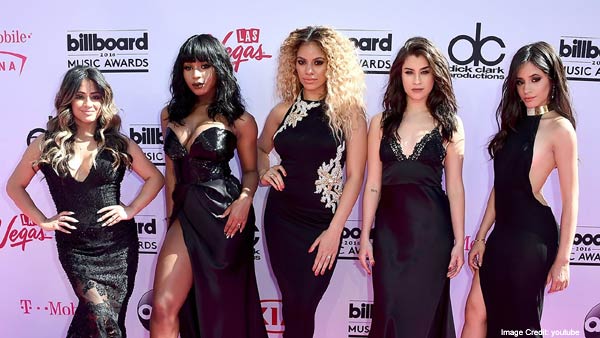 The girls sashayed on the Billboard Music Awards 2016 red carpet in black outfits. Ally Brooke wore a trailed, black lace, figure-hugging gown that showed off her vavavoom curves! Normani Hamilton meantime displayed a lot of legs in a princess cut satin gown.
Read Also: 2016 Emmy Awards: 12 Best Dressed Celebrities on Emmys Red Carpet
4. Black Makes for a Big Winner Again! The ladies were once again in all black dresses at the MTV Video Music Awards 2016. This time, they didn't just win the red carpet, they also won Best Collaboration for "Work from Home" and Song of Summer for "All in My Head (Flex)".
5. Candy Colors are Young and Fresh
The girls of Fifth Harmony weren't quite as coordinated on the Radio Disney Music Awards red carpet as they more frequently are. The girls wore dresses that gave a pop of color. Dinah wore a colorful floral skirt with islet cropped top. Ally was in a holographic skater dress paired with nude pumps. They took home the "Best Music Group" award.
6. Denim Jackets are so Fab and Fash: The girls wore denim jackets over white inner blouses for a Billboard photoshoot. The ladies' photos made it clear that the denim jackets are never out of season and always here to stay.
You May Also Like: Shakira's Beauty Secrets: What Keeps Shakira Still So Young Even at 39
7. Personality Dressing is Always Hot
Camila, Lauren, Dinah, Normani and Ally are at the apex of their careers and styling on the cover of their latest album, 7/27. The girls were all glammed up and shimmery in the middle of the desert — the backdrop of 7/27.
Conclusion
When it comes to Fifth Harmony styling, the timeless classics are brought back to life with a character upgrade.
Like this post? There's more. Get tons of beauty tips, tutorials, and news on the thebeautyinsiders Facebook & Twitter page. Like us on Facebook – we'll see you there!