Fierce Celebrity Hairstyles
There are many fierce celebrity hairstyles to pick from. Here is a list of celebrities with the boldest and sexiest hairstyles that accent their personalities.
Katy Perry often wears soft curls, but gives them a trendy edge with brightly colored highlights. Without the permanent commitment of highlight's like Perry's, try temporary hair color by Streekers. It can be styled and brushed without flaking.
Keira Knightley has an asymetric chin length bob which shows off her cheekbones and adds to the Chanel look of haute couture.
Paula Patton has a high teased pompadour that turns a traditional evening look to rocker style. To copy her look, get a tight toothed comb and tease the top of the hair in tiny divided sections. Then get a brush and pull the sides back.Pin it in the back.
When it comes to setting trends in beauty and fashion, Rihanna is the name that is thought of. Last year alone, she had a bright red crop, a horizontal mohawk, and two toned streaks.
The word crazy describes Lady Gaga. She is popular for her weird and outrageous fashion and hair styles. One of her looks is a half-side ponytail with a half braid. This is easy to accomplish and would make a great style for a night out on the town.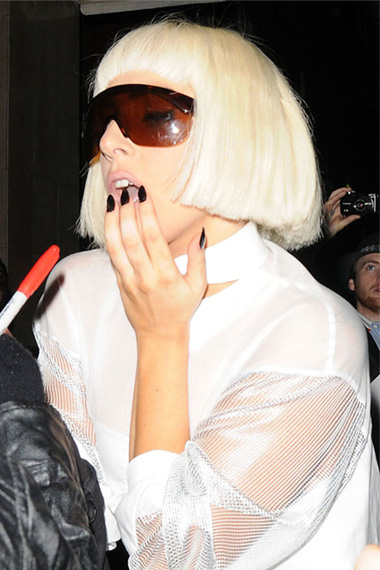 Jennifer Hudson has sleek hair with blunt bangs. To achieve this look, use a mixture of leave-in conditioner, cream that straightens, and a serum to add shine. Smooth it over slightly wet hair. Use the blow dryer and a flat iron. Some type of product can be used to separate the bangs' ends.
Victoria Beckham has a textured and tousled bob with a large part on the side. She completes her makeup with heavy eyeliner, nude lip color, and glowing cheeks.
Maggie Grace has sky-high hair with two tones. To copy the look, comb the hair to the crown and pin it down. Use hairspray to keep it from falling out.
Gwen Stefani has a real punk style with her platinum blond color. She has remained with this look for many years.
Photos via dailymakeover.com