Fillast Serum Review: Does It Really Work?
By
Fillast Serum Review: Does It Really Work?
This is an exclusive review of Fillast Serum, know complete information pros and cons about Fillast Serum on the beauty insiders
Advertising Disclosure

?
Fillast Serum Overview
Fillast Serum is one product in a line of skin care treatments manufactured by the Italian company, General Topics'. The website for Fillast Serum is very clinical and scientific in appearance and contains a limited amount of information for the product. Fillast Serum claims to be able to reverse the signs of aging, being the 'only clinically proven treatment' to do so, although this statement is often made by many other companies. Although there are no clinical trials shown on the official product site as proof that the serum works, the General Topics site does contain further scientific evidence and physicians' statements that seem positive.
The overall appearance of the Fillast site is quite impressive, although much of the one-page space is devoted to advertising the free trial offer. By taking advantage of the free trial, the customer is enrolled into the monthly auto-shipping program, plans that can sometimes be difficult to cancel. The one advantage of enrolment however, is the product is offered at a deeply discounted price of $59.99, compared to the regular cost of $120.00. In addition to this, the customer will also receive free gifts and free trials of other products from time to time.
Unfortunately there is no FAQ section featured nor are any customer testimonials shown. No independent consumer reviews were available at the time of writing either.
Fillast Serum – Product Description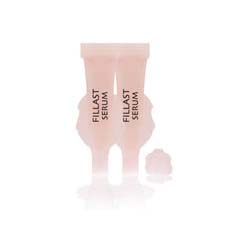 Fillast Serum is a treatment designed for the face and neck area. It is packaged in individual vials, 10 per box, which will each last for 'several' applications. The company recommends that the product is applied twice daily, in the morning and evening, or throughout the day as required. Although no full ingredient list is shown for Fillast, the key ingredient seems to be Haluronic Acid (HA), a substance that is produced naturally in the body, but decreases as we age. Fillast Serum works in three ways – by supplementing the natural HA, stimulating HA production and inhibiting the damaging free-radicals in the body. By doing this, Fillast can improve elasticity in the skin, increase vital hydration, reduce dark circles and improve skin texture and tone.
Because there is no ingredient list, it is not known how safe Fillast Serum would be for those with sensitive skin. However, it is stated that Fillast is not known to normally cause irritation.
Fillast Serum – Advantages
Individual vials of serum decrease the chance of contamination
Fillast Serum contains Haluronic Acid, an essential skin substance
The company offers discounted prices
The Fillast Serum website is user-friendly
The product appears to have performed well in clinical studies
A free trial of the product is available
Fillast Serum is a patented product
Fillast Serum – Drawbacks
There is no FAQ section on the website
No customer testimonials are shown
No full ingredient list is provided
The website only gives a limited amount of information
The customer is enrolled in the auto-shipping program when ordering the free trial
It is unlikely Fillast Serum can 'literally' reverse the signs of aging
Fillast Serum – The Bottomline
With no complaints having been filed against the makers of the Fillast line of products, Fillast Serum does seem to be one of the more genuine and effective brands available on the market. It would be helpful to know exactly what other ingredients are in the serum and how much Haluronic Acid is contained in each vial.
As a daily skin care treatment Fillast Serum is a somewhat costly option, even at the discounted price of $59.99 for a one month supply. Without more evidence of positive results and independent reviews, it would be wise to purchase a less expensive HA skin treatment.
The cosmetic industry currently offers a variety of wrinkle creams from a number of brands. To make the process of selecting a wrinkle cream as simple as possible, we've evaluated each cream on its ability to fulfill our requirements for a quality wrinkle cream. To be specific, we believe that a wrinkle cream should include ingredients that offer antioxidant protection for skin, in order to delay the onset of noticeable aging. At the same time, wrinkle creams should be able to renew skin, typically by containing compounds with collagen-stimulating properties. Additionally, such a cream should improve both the texture and appearance of skin by offering both long term anti-wrinkle benefits and hydrating agents to create smooth, firm skin. Listed below are the top wrinkle creams, according to these important characteristics.
Top Wrinkle Serums
Dermatologist Recommendations for Maintaining Younger, Healthier, Vibrant Looking Skin:
Be certain to consistently apply the product(s) you choose in accordance with its directions for use;
Pay special attention to your neck and hands while applying the product(s) you choose, as these areas reflect your age;
Always use sunscreen with a Sun Protection Factor (SPF) of at least 15;
Drink at least eight glasses of water a day to stay well hydrated;
Avoid excessive intake of caffeinated and alcoholic beverages, as they may contribute to dehydration and exacerbate the appearance of fine lines and wrinkles; and
Be sure to get adequate rest every day.