Freeze 24-7 Review: Does It Really Work?
By
Freeze 24-7
Freeze 24-7: know complete information about Freeze 24-7 Review on the beauty insiders
Advertising Disclosure

?
Freeze 24-7 Overview
In late 2003, Freeze 24-7 International entered the cosmeceutical industry with an uncompromising focus on creating cutting-edge anti-aging products that are safe, effective and efficient. Without animal testing, Freeze 24-7 develops products in alignment with their core mission, which is to reach the forefront of product development by incorporating the latest cosmetic breakthroughs with dynamic scientific research resulting in effective skincare that improves the appearance of its clients.
The Freeze247.com website in its baby blue, reddish pink and pastel green tones, offers an interactive environment in which visitors can connect with the company. In addition to written content, the site uses active flash video and diagrams to convey the message of its fast-acting, safe and effective youth restoration products. To emphasize the point without testimonials, Freeze 24-7 includes results photos and graphs to visualize clinical trial results that demonstrate effectiveness.
Freeze 24-7 builds trust with a series of magazine clippings, a distributorship as well as retail availability through stores like Nordstroms, Bloomgindale's, Saks Fifth Avenue and Harrods.
Additionally, the website references its television trial offer for a portion of the total product cost, with the rest becoming due after 30 days. The offer also includes additional products as a free gift. A Freeze 24-7 members club encourages repeat customers interested in taking advantage of offers, tips, and autoship privileges.
Freeze 24-7 – Product Description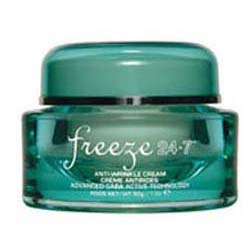 Sporting the subtext "Nature. Not Needles. Age-Less Skincare" and "Youthful. Fresh Fast", Freeze 24-7 boasts of a patent-pending Age-Less Technology that relaxes muscles without a prescription nor the side effects and toxins of Botox and other common cosmeceutical solutions. Similar to other products, Freeze 24-7 seeks to relax the muscles used in repetitive facial expressions. However, this product uses a natural ingredient Gamma Aminobutyric Acid; an acid the body produces to relax muscles. The result is age-less skincare without harmful toxins or the high price tag.
Freeze 24-7 encourages visitors to focus on youth restoration throughout their skincare regimen with the introduction of products for each step of the process. The skincare line includes an eye cream, the popular wrinkle treatment, eye serum, anti-aging moisturizer, detoxifying mask, lip plumper, and cleanser with sunscreen. While the line does not include a toner, there is debate in the industry as to whether it is necessary, so its absence causes little concern. However, the SPF cleanser is suspect since the sunscreen benefits are washed down the drain.
At prices ranging from $24 to $115, Freeze 24-7 diminishes the look of acne scars, creases, stretch marks, lines and wrinkles. Touted as the safe alternative to Botox, the wrinkle treatment, its initial product, includes many scientific-sounding acids, alcohols and a few extracts. Some of its other offerings include fruit and plant extracts.
With results said to take effect almost immediately and last for 24 hours, third party reviews hit every spot on the ratings grid.
Freeze 24-7 Advantage
Freeze 24-7 appears to be fast-acting and less expensive than the alternatives.
The full product line offers maximum results.
The website is interactive and provides photos and clinical research results.
Freeze 24-7 – Drawbacks
The ingredient list includes many acidic scientific components rather than natural ones.
The product line washes sunscreen benefits down the drain by including it in its cleanser.
The company profile focused more on the mission than company or product origin.
Freeze 24-7 – The Bottomline
With its department store placement and flash video tutorials, Freeze 24-7 may be a safe and economical alternative to Botox and other wrinkle relaxers, however, its complicated ingredient list may leave those looking to restore their youth searching for answers elsewhere.
As we age the composition, texture and appearance of our skin changes. Signs of skin aging include wrinkles, fine lines, loss of moisture, uneven tone, and dull, tired-looking skin. There are countless anti-wrinkle creams on the market promising to make skin look and feel younger. Many anti-wrinkle creams promise everything short of a facelift or to provide the much sought after "fountain of youth". In reality most are just moisturizers marketed as anti-aging products.
Below you'll find some of the most effective wrinkle serum/cream formulations on the market today, in our opinion.
Our Top Wrinkle Serums
Dermatologist Recommendations for Maintaining Younger, Healthier, Vibrant Looking Skin:
Be certain to consistently apply the product(s) you choose in accordance with its directions for use;
Pay special attention to your neck and hands while applying the product(s) you choose, as these areas reflect your age;
Always use sunscreen with a Sun Protection Factor (SPF) of at least 15;
Drink at least eight glasses of water a day to stay well hydrated;
Avoid excessive intake of caffeinated and alcoholic beverages, as they may contribute to dehydration and exacerbate the appearance of fine lines and wrinkles; and
Be sure to get adequate rest every day.