These Game of Thrones Makeup Brushes Will Make You Amaze (2017 Edition)
"I don't plan on knitting by the fire while men fight for me" — Lyanna Mormont
That was just one of the most memorable lines from Season 7 of The Game of Thrones that had the entire GoT fandom glued to the screen as we all held back our breaths. As we look forward to this week's Episode 5, "East Watch," we could all relax for now. There are a few days left before HBO releases the next episode so, we'd as well check out the sidelines — and, have we got news for the Ladies!
From The Westeros To Your Dresser
The 7 Kingdoms will have their day of war and conflict again, alright. While the houses fall one by one, their sigils will always have a place on your dresser. If you love watching Game of Thrones Fashion then, this you must see and this you must not miss.
The Catch 96, a cosmetics brand, has recently launched the 2017 edition of the Game of Thrones Makeup Brushes. Each set is made up of 8 brushes, each one representing the 7 houses plus an eighth one that pays tribute to The Hand of the King. Each piece comes with a sigil and the lines each house has become famous for.
The brush set is comprised of the following, with the corresponding house in Westeros each one represents:
1. Shadow Brushes
Tully of Riverrun: "Family, Duty, Honor."
Stark of Winterfell: "Winter is Coming."
Martell of Sunspear: "Unbored, Unbent, Unbroken."
Lannister of Casterly Rock: "Hear Me Roar."
Baratheon of Storm's End: "Ours Is The Fury."
2.Fluffy Powder Brush
Targaryen of King's Landing: "Fire And Blood."
3. Liner Brush
Greyjoy of Pike: "We Do Not Sow."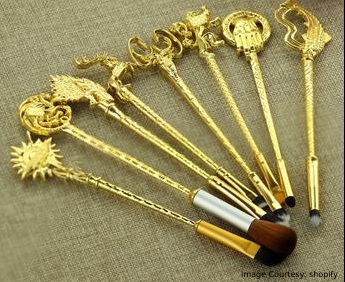 4.Brow and Lash Comb
The Hand of the King
Related: Nude Makeup You Want To Try Inspired by Game of Thrones
Blush And Conquer
So, the next time you want to try new makeup ideas that will give you the scheming look of Cersei Lannister or, wear the meaningful stare of Missandei, don't just Google up a YouTube tutorial, reach out for your Game of thrones Makeup brushes too.
This darling set is now on sale for the US $40 per set, dropping from its original price of US $80 on launch date.
To get Daenerys Targaryen's look, have these makeup brushes close and follow these makeup tips:
1.Don't try to achieve a flawless complexion.

2.Roughly brighten your eye area and frame those eyebrows.

3.Do your eye shadow in nude and line your upper eyelid with a black liner.

4.Line and fill your lips with a nude pink or plum shade.

5.Don't forget to dye your hair blonde.

6.Learn the Game of Thrones braids
Then, hold up the brush that bears the sigil of the House of Targaryen and says this with conviction: "I was born to rule The Seven Kingdoms — and, I will!" You will be so convincing, that even Drogo and Jon Snow will be fooled!
Now, you're all set for the next episode. Hang tight!
Related: Easy Ways to Contour and Highlight for Natural Looking Makeup Look
Like this post? There's more. Get tons of beauty tips, tutorials, and news on the thebeautyinsiders Facebook & Twitter page. Like us on Facebook – we'll see you there!