Genesis Eye Serum Review: Does this serum repair the skin damage?
By
Advertising Disclosure

?
Genesis Eye Serum Description
Genesis Eye Serum, US $11 for 15 ml, is the eye product that will restore your eye skin health and beauty by building on your surface layers. More specifically, this product is formulated to deliver the following benefits for your skin:
Gives your skin a moisture boost to restore healthy hydration levels, the cornerstone of healthy skin
Helps lighten and brighten dark circles and other skin pigmentation issues around your eye area
Stimulates higher volumes of collagen production at much faster rates
Jumpstart your skin cells to begin performing mechanisms that will renew your skin and reveal a more youthful skin deep within
Improve the contours around your eye area by improving density and firmness, as this product corrects loose and saggy skin
This product is manufactured by L'Oreal, one of the world's most recognizable brands in skin care, hair care and cosmetics.
Genesis Eye Serum Ingredients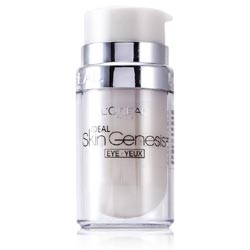 Pro-Xylane: A proprietary complex developed by L'Oreal which serves as the base ingredient of all products that fall under the Ideal Skin Genesis product line, helps your skin regain and retain moisture, strengthen its protective barrier function, while also simultaneously shielding your skin cells from damage
Hyaluronic Acid: Acts as a moisture magnet which helps make up for the significantly decreasing amount of HA in your skin, it attracts moisture from the surroundings and, as the water droplets rest on the surface, it gives your skin a comforting feeling that can last for several hours
Algae Extract: Have deep moisturizing properties that reinvigorates your skin and your complexion, and renders the formula its protective antioxidant properties as well
Directions
Genesis Eye Serum must be used as part of your morning and evening skin care ritual, applying the product after a fresh cleanse and tone. To apply, dot and spread around your eyes in upwards motion with occasional tapping and massaging to blend in well
Genesis Eye Serum Advantages
Weightless texture and easily absorbent, this eye serum won't leave your skin feeling thick, uncomfortable, and greasy.
This product does not contain irritating fragrance ingredients.
Genesis Eye Serum reviews have generally pointed out how well this product moisturizes skin, both instantly and keeping it hydrated for hours.
Genesis Eye Serum Disadvantages
The full ingredients list is not disclosed, and it seems that there is no dedicated web page on the L'Oreal website to discuss this product in detail.
Obviously lacks ingredients that will have brought about buildable, long-term benefits that last.
Genesis Eye Serum reviews reveal that this product may only be capable of bringing your skin temporary improvements while the product stays on your skin and as you continue regular, twice daily application
Conclusion
Genesis Eye Serum is a basic eye serum at a bargain price of US $11. This product may be well suited to younger skin but, not when the signs of skin aging have started to kick in. That's because this product does not seem like it was built to correct signs of skin aging. So, if you have mature skin, you simply need better.
The most common eye area issues are puffiness, dark circles, wrinkles and crow's feet, and loss of hydration. There are countless eye creams available on the market today, making it seem nearly impossible to find the "right one" that meets our specific under eye needs. It is imperative to find a product that has been formulated to address a variety of complex eye area problems.
Below you'll find some of the most effective eye cream formulations on the market today, in our opinion.
Our Top Eye Creams
Also Remember These Dermatologist Recommended Important Tips:
Age has nothing to do with the lines that appear on the corners of your eyes... it's a combination of heredity and careless abuse of the area.
Skin is skin... it all needs to be cared for in one way or another. For my younger readers, this means not pulling on the skin when removing eye makeup.
The eye area is prone to fine lines and wrinkles, so it is really important not over-work the area, squint, and stay away from smokey rooms. Your eyes won't like that either.
One of the best ways to protect this area of your face is to put on a pair of sunglasses every single time you go outside spring, summer, fall and winter.
There are very few oil glands in the eye area, so it can dry out very quickly, especially if you spend a great deal of time out of doors.
When you chose an eye cream, be sure to choose one that is especially formulated for this delicate skin. Don't use a day cream that could be full of ingredients that will irritate this area. Too rich a cream can cause as many problems as ignoring the area.
**This is a subjective assessment based on the strength of the available information and our estimation of efficacy.
*Results may vary. The information contained in this website is provided for general informational purposes only. No medical claims are implied in this content, and the information herein is not intended be used for self diagnosis or self trealment of any condition.
Disclosure of Material Connection: Some of the links in the post above are "associate sales links." This means if you click on the link and purchase an item, we will receive a commission Regardless, we only recommend products or services which we use personally and/or believe will add value to our readers. We are disclosing this in accordance with the Federal Trade Commission's 16 CFR, Part 255: "Guides Concerning the Use of Endorsements and Testimonials."