GeniSphere: Does GeniSphere Work?
By
GeniSphere
An exclusive review of GeniSphere Product, Know more about GeniSphere Product, its pros & cons on the beauty insiders.
Advertising Disclosure

?
GeniSphere Overview
GeniSphere is a concentrated, anti-wrinkle formula that claims to be "a new revolution in the ability to remove wrinkles". It is a daily-use cream, doubling as a moisturizer, and offers a non-surgical alternative to Botox.
However, there's virtually little else to talk about as far as the site is concerned, with superficial terminology ("Qu-spheres") and a short infomercial on the main page. The main homepage is the only part of the site that's relevant to the product; there's a separate page describing wrinkle creams in general, and an odd "12 ways to prevent wrinkles" section, that only seems like a thin attempt to pad out a very poor website.
Much of the site is mainly sales pitch and fluffy terminology ("super absorbent spheres"), along with vague claims that "GeniSphere can sell for as much as $99 an ounce in some places", but a quick Google search yielded no such results of the "some places" retailing the cream at such high price, or at all. The product is only available from the company's website for $39.95, plus $8 delivery.
GeniSphere – Product Description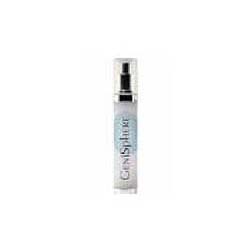 The cream can be used daily as a moisturizer, although only a pearl-sized amount is required, and smoother, younger-looking skin is expected within minutes. The site claims that the formula "promotes younger, smoother and more sensual skin" as well as being designed to provide a long-lasting result, but it doesn't fully explain how. The only ingredient with a hint of explanation is the Qu-Spheres, which apparently "nestle" into the epidermis "beneath each wrinkle", absorb the body's moisture and "lift the wrinkles from beneath". Even though this is an implausible concept, there is no evidence to explain how this is possible, save for a small diagram showing small blue bubbles (the Qu-spheres) underneath a straightened-out wrinkle.
There is no allergy information, details on clinical trials or information on shipping or returns. There are also no testimonials, aside from a before and after photo. A ribbon on the homepage says "Satisfaction guaranteed!", but there is no mention of a free trial or money-back guarantee. There's also no information on returns.
GeniSphere Advantage
Results are expected instantly (within minutes, but under a photo it says "in one hour")
Can be used daily
GeniSphere – Drawbacks
Extremely poorly-constructed website – no ingredient listing, allergy info, clinical trial results or testimonials
False claims about lower price than "some places", as an online search revealed no other retailers
Conflicting information – promises results within minutes, but further down the page it says in one hour.
Sparse amount of online reviews, all of which do not recommend the product.
GeniSphere – The Bottom line
The only way to contact the company is by postal address or email – there is no phone number. Other links at the bottom of the site take you to completely different websites offering unrelated products. The "GeniSphere homepage" is also a broken link. On top of this, the site is poorly written and contains several irrelevant sentence fragments, which does not appear promising. The false claim that a lower price is being offered on their site is disappointingly misleading, and seems to only make the $39.95 price seem more appealing. However, amid panning reviews and at $39.95 per small bottle, the price isn't justified if there are absolutely no hard facts instead of pseudo-science to back up the product's "revolutionary" claims.
As we age the composition, texture and appearance of our skin changes. Signs of skin aging include wrinkles, fine lines, loss of moisture, uneven tone, and dull, tired-looking skin. There are countless anti-wrinkle creams on the market promising to make skin look and feel younger. Many anti-wrinkle creams promise everything short of a facelift or to provide the much sought after "fountain of youth". In reality most are just moisturizers marketed as anti-aging products.
Below you'll find some of the most effective wrinkle serum/cream formulations on the market today, in our opinion.
Our Top Wrinkle Creams
Dermatologist Recommendations for Maintaining Younger, Healthier, Vibrant Looking Skin:
Be certain to consistently apply the product(s) you choose in accordance with its directions for use;
Pay special attention to your neck and hands while applying the product(s) you choose, as these areas reflect your age;
Always use sunscreen with a Sun Protection Factor (SPF) of at least 15;
Drink at least eight glasses of water a day to stay well hydrated;
Avoid excessive intake of caffeinated and alcoholic beverages, as they may contribute to dehydration and exacerbate the appearance of fine lines and wrinkles; and
Be sure to get adequate rest every day.