How to Get Rid of Blackheads & Whiteheads for Good?
It's easy to get into the habit of obsessively popping your blackheads to let that thick, oxidized sebum out of your pores and onto your cotton. Gross! But, truth is, many people find this gesture instantly gratifying and yet they too know that it is a ridiculously useless habit that never really gets the blackheads permanently gone and done with. To make matters worse, getting into this habit probably only makes your already large pores even larger.
And, what of those microbeads, scrubs, nose pore strips, and face masks? For one, microbeads in your facial cleansers have now been permanently banned, in the US at least, for being an environmental pollutant and potentially toxic to your health for the simple fact that these are made like plastics and so behave like plastics do. So, how can this option ever be beneficial for you? The others? You've probably never tried more quacks!
What Blackheads are Made of?
Whiteheads, blackheads – what's the difference? They're actually the same excess sebum that clog your pores except, of course, highly contractedly colored! And the reason why blackheads are black is because the sebum has been oxidized, and that's because blackheads are uncovered and remain exposed to the air. On the contrary, whiteheads are closed. Both are essentially the result of excess sebum and dead skin cells clogging your pores but, contrary to popular belief, are not brought about by dirt or dust.
There are factors you can and cannot control that determine if your skin is prone or not to growing blackheads:
1. Heredity and Your Genes: How else did you get those large pores or oily skin or blackhead prone skin if your parents or grandparents didn't get them themselves? In case you inherited porcelain, silky smooth skin then, you are undeniably lucky!
2. Unhealthy Lifestyle Choices: Yes, even the fatty food you eat, lack of exercise, and chronic insufficient sleep all add up to enlargen your pores or make your oily skin even oilier.
3. Unhygienic Practices: Blackheads do boil down to unhygienic practices as well. It can be as simple as your dirty makeup brushes and profusely popping your blackheads whenever you find time to do pick on them.
4. Poor Skincare Regimen: If you don't exfoliate, that's exactly the problem; if you do, you're probably doing it all wrong.
These said, there is no way you can ever totally get rid of blackheads if genes is your problem but, if the cause is any of the other three mentioned above then, there are clearly ways by which you can avoid them altogether.
Getting Rid Of Stubborn Blackheads
If you're still unclear about how you can get rid of your blackheads for good, it's as simple as reversing your not so very blackhead-free skin supportive practices. Well, if you need more help, get the details below:
1. By Making Healthier Lifestyle Choices: Fats are good, alright but, too much of it and your body will have to find ways to digest or excrete the excess. So, first things first, if you don't want too much oil on your skin, eat less of it. Also, find more ways to sweat out the excess by doing regular cardio exercises to burn off the excess fat and energy. Get sufficient sleep too to tighten your pores.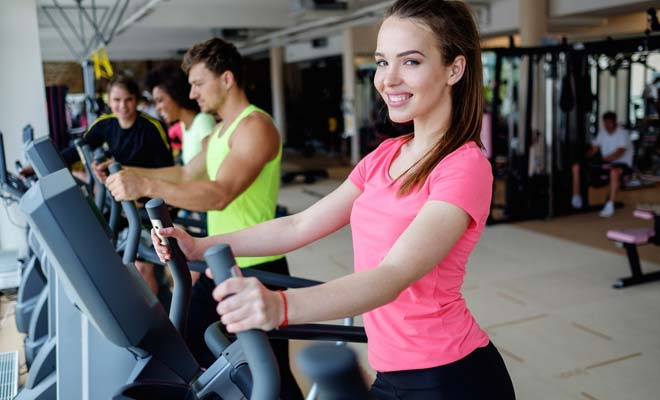 2. By Kicking Out Unhygienic Practices: Stop pricking! You aren't only making your pores larger and damaging your skin unnecessarily, but also setting up your skin for infection. If you hit the jackpot, you'll start yourself to an acne breakout – now that's an even more serious problem you'll have to deal with than blackheads.
3. By Improving Your Skincare Regimen: Add exfoliation to your regular skincare regimen in case you haven't already done so. You don't need to do it every day, just regularly like once or twice weekly depending on your skin type. It's the only additional step you need to get those stubborn blackheads out of your face for good, and then you can confidently trash those masks and nose strips that are seriously just fancy and nowhere near effective as a good exfoliation.
You May Also Like: A Complete Guide on Exfoliation
With exfoliation, you have plenty of choices which generally fall under either mechanical or chemical exfoliation. Mechanical exfoliation makes use of abrasive tools like facial brushes or substrates like oatmeal or rice bran. Chemical exfoliation involves the use of substances that slough off skin either by loosening up the debris of dead skin that has built up on the skin surface or, by deeply penetrating pores to draw out the hardened sebum.
In case you have sensitive skin, your best options are naturally sourced exfoliants that work just as well but so much gentler to your skin. Your options include massaging in mashed papayas or good bacteria onto your face.
Conclusion
With or without makeup products, nothing beats a clear, clean, flawless skin that you can flaunt totally bare. Your blackheads will not disappear unless you work in a proper, robust and integrative anti-blackhead skincare system into your daily routine – one that involves significantly revamping your lifestyle, hygiene, and skincare practices all at the same time and for life.