8 Ways to Wear Platform Sneakers like Gigi Hadid
Sneakers have become increasing popular since 2014.The trend is increasingly rising leading to more brands in the market. The sneakers have earned permanent places in most ladies wardrobes. Now, even some celebrities have substituted their 6-inch heels for a pair of kicks.
With versatile and comfy shoes, there isendless option for you to choose from. The main question, however, is how to ensure you stand out in a congregation full of sneaker-wearing ladies? If you want a stylish, fail-proof method of wearing these sneakers, take inspirations from Gigi Hadid, who has demonstrated that you can wear sneakers everywhere and anywhere.
For sure, Gigi Hadid knows how to clad when theoccasion demands so, but when off the clock you cannot honestly tell the sneakers that she will slip into. When heading out on a date, or keeping the weekend casual, the model has a perfect thing for sporty kicks that you cannot get enough.
1. Get the Right Size
If you have not purchased a sneaker for a long time, let your shoe size be measured at the store. Check the width to ensure that it is the perfect one for you. Having a fitting sneaker is one of the basics that will enable you to wear it properly.
2. Cut the Pants to show your Ankle Bone
When wearing sneakers, make it something to show off. The best way to achieve this is to ensure they are seen, for this reason, your pants should fall above the ankle bone. Do something to make sure that this is attained.
3. Do not Wear Socks
Not wearing socks can be hard to some people, especially those who like espadrille take on their slides or sneaks. If you must wear them, have the low rider ones to avoid showing them.
4. Go for a Classic Look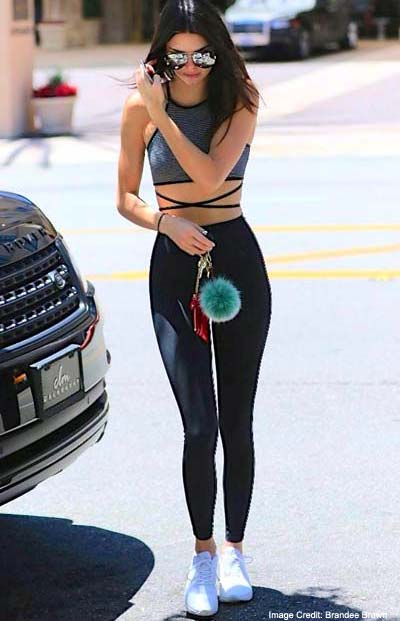 Ensure that your outfit is consistent with the sneakers you opt to wear. To most people, theclassic look may mean a classic leopard like print or classic stripes. Pair your Adidas with a simple turtleneck, dramatic pair of sunglasses, and two-tone leggings. The results will be fantastic look equaling glam and sporty.
5. Choose a Dress or a Skirt that Matches
Have a thoughtful approach when deciding on the dress or a skirt to wear. Be careful and select an option that will not leave you looking like a 1980s secretary. If you opt for a skirt, let it fall slightly above the knee and pair it with a chic cross body bag. Alternatively, you can wear summer denim dresses with bright sneakers. The choice that you select ensure it brings the entire look together.
6. Grab a Couple of Pair and Low-rider Socks
On summer, you may not want to show your pedicure, which needs some work. Have a closed-toe slide or a sneak that that ends up making you happy relieving you from various flip-flops. In such a case, select the best low-rider socks considering costs and color.
7. Have the Best Sneaker during the Day
Have go-to jeans ready in your closet and a pair of favorite sneakers. Keep the outfit simple allowing the sneaker details to popup.
You May Also Like – Celebrity Distinctive Makeup Looks
8. On a Night Out
To look like an evening ensemble, have a white or black sneaker coupled with an edgy leather jacket.
Conclusion
Mixing a comfortable dress with an athletic sneaker is the surest way of giving you a feminine touch. Follow Gigi Hadid's inspiration and you won't be disappointed.
Like this post? There's more. Get tons of beauty tips, tutorials, and news on the thebeautyinsiders Facebook & Twitter page. Like us on Facebook – we'll see you there!