Reading Time:
3
minutes
GlyDerm Intense C Serum Overview:
GlyDerm Intense C Serum, US $50 for a 30 ml vial, is a product that offers intensive Vitamin C treatment to re-energize your skin and brighten your over all complexion.
About GlyDerm Intense C Serum — Does It Really Work?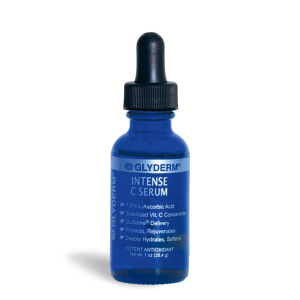 This serum is brought to you by Glyderm. All products formulated and distributed by Glyderm are inspired by the skin renewing properties and functional capabilities of glycolic acid, hence the company's name. Glyderm has been promoting radiant and flawless skin with glycolic acid as the key ingredient in its skin enhancement products.
Based on claims made by the manufacturer, this product has been formulated to deliver for you the following benefits:
Promote your skin's natural glow and enhance radiance.
Deliver more stable and more useful forms of Vitamin C deep into your skin.
Smoothen your skin's surface and help in restructuring your skin.
Improve your skin's protection from UV as well as other environmental stressors to help prevent damage and aging.
With regular product use, your wrinkles and fine lines fade while dark spots become less noticeable.
What Are The Ingredients In Glyderm Intense C Serum?
L-Ascorbic Acid (7.5%): Energizes and reinvigorates your sluggish skin cells to help speed up the rate of healing and rejuvenation that supports skin renewal, as it also simultaneously acts on lightening dark spots and promoting your skin's more radiant complexion.
Lecithin: Promotes better absorption of beneficial products into your skin while also bringing life back into your tired-looking skin.
Directions To Use:
GlyDerm Intense C Serum is recommended for use after thoroughly cleansing and toning your skin. Apply three to four drops to your skin and massage gently until it is well blended and absorbed. Follow through with your moisturizer.
Benefits:
GlyDerm Intense C Serum utilizes Glyderm's patented QuSome technology that help deliver the beneficial ingredients of this serum deep into your skin to improve absorption and assimilation by your skin cells.
This product contains a highly potent and stable form of Vitamin C that will not easily degrade nor stay on your skin's surface.
The formula is rid of parabens, product preservatives that disrupt normal endocrine functions that can lead to diseases and organ failure.
This product has a nice consistency and is fragrance-free which should make it good to use on chronically irritated skin.
Disadvantages:
This product only delivers a high concentration of Vitamin C which almost all skin types need except when you have a glaring, more pressing skin issue that might require something else.
GlyDerm Intense C Serum reviews indicate that the formula may be too intense for some people and cause irritation and sting the eyes.
Does GlyDerm Intense C Serum Have Any Side Effects?
Based on the ingredients and reviews, the following side effects may be experienced when using GlyDerm Intense C Serum:
Skin irritation and allergic reactions due to several ingredients, including Vitamin C.
Increased risk for developing various forms of cancers due to PEGs.
Final Verdict:
GlyDerm Intense C Serum is a straightforward product that aims to deliver what it sets out to deliver — Vitamin C. The lean list of ingredients is noteworthy. However, if your skin faces other issues that Vitamin C alone cannot resolve, like mature and aging skin, then this serum will have to be complemented with other products. That entails additional costs but, that also increases your risk for adverse reactions between the products which makes you more prone to irritations.