Gold Elements Reviews- Should You Trust This Product?
Advertising Disclosure

?
Gold Elements Age Treatment Eye Cream Introduction
Gold Elements Age Treatment Eye Cream, US $299 for 30 ml, is an anti-aging product that commits to deliver a combination of immediate and longer-term improvements to your aging skin.
What Does Gold Elements Age Treatment Eye Cream Claim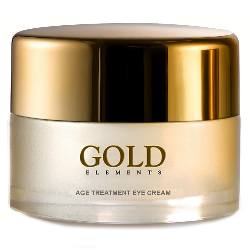 Based on claims made by the manufacturer, this product has been formulated to deliver for you the following benefits:
Deliver age-defying properties to restore the youthfulness of skin around your eyes
Enhance the contour of skin around your eyes, making it appear firmer and more uplifted
Smoothen, tighten, and fade the appearance of wrinkles, fine lines, and crow's feet
Gold Elements Age Treatment Eye Cream Manufacturer's Detail
Here is the promise of Golden Elements: "We use only the highest grade ingredients, gifted to us by mother earth. From traces of 24K gold, to black truffles, our exclusive product lines are crafted to the highest of standards." All the products from this skin care company are made with 24-K Gold, available for shipping worldwide, and also present in over 30 physical boutiques in the US.
Working of Gold Elements Age Treatment Eye Cream
This product works by delivering the luxurious ingredients, 24-K Gold and Truffles so that your skin can feast on these 2 key ingredients.
Gold Elements Age Treatment Eye Cream Ingredients
24-Karat Gold: Colloidal gold to be exact, is an ingredient that has been used for centuries to deliver anti-aging benefits that helps restore the youthfulness, firmness and contour of aging skin
Truffles: Loaded with vitamins and minerals, this expensive ingredient helps replenish your skin's nutritional content, improve moisture levels, restore optimal elasticity, and deliver anti-aging benefits, including protecting collagen fibers from breaking down
Gold Elements Age Treatment Eye Cream Pros
This product is formulated without parabens, chemicals that can alter the behavior of your hormones and the organs that these control and regulate.
When purchased via the manufacturer's website, the product is shipped on the same day, and shipped for free for all single receipt transactions worth at least US $150.
This product ships worldwide.
Gold Elements Age Treatment Eye Cream Cons
The manufacturer fails to openly disclose this product's full ingredients list, and does not present any study that serves as proof of this product's potency and effectiveness in delivering the claims made about this product.
This product is too expensive.
Gold Elements Age Treatment Eye Cream Side Effects
Skin irritation and allergic reactions are possibilities, most especially when it comes to anti-aging products such as this one. In the absence of a full list of ingredients, it is impossible to tell for sure how safe or effective the ingredients are. Therefore, take extra precaution when using this product for the first time. Perform a patch test to check for allergies.
Directions
Gold Elements Age Treatment Eye Cream works best with the Eye Treatment Serum. Simply apply the product onto skin that has been freshly and thoroughly cleansed and toned. Dot around each eye then, spread evenly in upwards motion. Tap occasionally to pack in the product and even out creased skin.
Final Verdict
Gold Elements Age Treatment Eye Cream may perform what its makers claim it could deliver. There's very limited information available about this product, however, which means that you could be taking too much risk for such a steep price point. When you're cashing out US $300, you will naturally want to know what it is that you're paying for.
The most common eye area issues are puffiness, dark circles, wrinkles and crow's feet, and loss of hydration. There are countless eye creams available on the market today, making it seem nearly impossible to find the "right one" that meets our specific under eye needs. It is imperative to find a product that has been formulated to address a variety of complex eye area problems.
Below you'll find some of the most effective eye cream formulations on the market today, in our opinion.
Our Top Eye Creams
Also Remember These Dermatologist Recommended Important Tips:
Age has nothing to do with the lines that appear on the corners of your eyes... it's a combination of heredity and careless abuse of the area.
Skin is skin... it all needs to be cared for in one way or another. For my younger readers, this means not pulling on the skin when removing eye makeup.
The eye area is prone to fine lines and wrinkles, so it is really important not over-work the area, squint, and stay away from smokey rooms. Your eyes won't like that either.
One of the best ways to protect this area of your face is to put on a pair of sunglasses every single time you go outside spring, summer, fall and winter.
There are very few oil glands in the eye area, so it can dry out very quickly, especially if you spend a great deal of time out of doors.
When you chose an eye cream, be sure to choose one that is especially formulated for this delicate skin. Don't use a day cream that could be full of ingredients that will irritate this area. Too rich a cream can cause as many problems as ignoring the area.
**This is a subjective assessment based on the strength of the available information and our estimation of efficacy.
*Results may vary. The information contained in this website is provided for general informational purposes only. No medical claims are implied in this content, and the information herein is not intended be used for self diagnosis or self trealment of any condition.
Disclosure of Material Connection: Some of the links in the post above are "associate sales links." This means if you click on the link and purchase an item, we will receive a commission Regardless, we only recommend products or services which we use personally and/or believe will add value to our readers. We are disclosing this in accordance with the Federal Trade Commission's 16 CFR, Part 255: "Guides Concerning the Use of Endorsements and Testimonials."